Most homeowners consider the kitchen as the heart of their home. A well-organised kitchen can lead to a healthy and lively environment. Placing a simple and nutritious food on the table every day is one of the greatest things you can do for your health and bank account.
However, if your kitchen utensils are not that accessible, it's easy to give up cooking and order ready-to-eat food. Your kitchen doesn't have to be picture perfect to achieve a healthy environment, but it needs to be functional in all aspects. It needs to have the layout that could complete the kitchen work triangle.
It may be easy to accomplish, but don't let it deceive you. The kitchen is a vast and extensive area where you can cook, study, socialize, and gather with your family. So here are excellent suggestions to create a functional and workable kitchen that you'll be delighted to use every day.
Clear Up Working Space
Do you have a crowded workspace? Maybe you have too many appliances and equipment on your counters such as coffeemaker, toaster, canisters, baskets, stand mixer, television, jars, and blender. First of all, you need to get your tv out of your kitchen as it will be unnecessary to have it inside the workstation.
Put small appliances in a cabinet, especially that equipment you don't usually use. If you have a coffee maker, it's better to have a coffee station inside your kitchen. If you want to set up a place for your coffee station, you can seek for the help of some home improvements professionals near your area such as GIA Renovation, etc.
In that way, it'll be more convenient to place the coffee machine without taking up too much space in the counters. If you need more space for the vegetables and other ingredients, you can add a set of wire baskets for extra storage. Always keep in mind that your countertop should be clear from all unnecessary things for better productivity and functionality.
Organize the Food in Your Fridge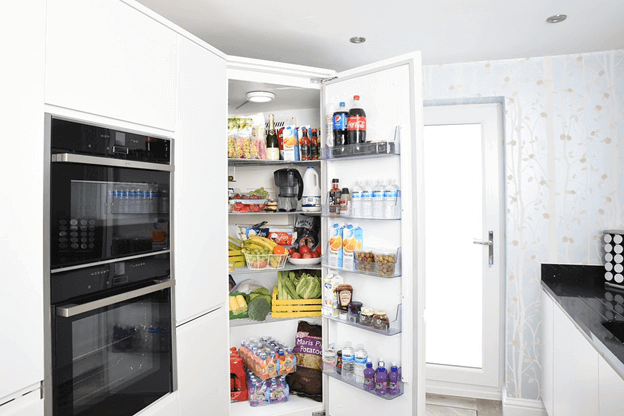 Most people come home from work hungry, and chances are they'll grab the first snack they see inside the kitchen or the fridge. If that's the case, try to organise the food inside your refrigerator and make sure all your meals are the healthiest options. Put them in clear containers at the front of the fridge at eye level.
Any treats or entertaining leftovers such as sweets and meat should be in an opaque container towards the back. If you have chips, try to put them in a storage cabinet. In this way, you'll only not have a healthy choice of meal, but an organised kitchen as well.
Keep Herbs and Spices In sight
Herbs and spices are all essential ingredients for healthy cooking. Herbs make your meal more healthy, savoury, and flavorful. These particular ingredients will help you cut down on the less healthy choices like butter and salt. Plus, having a herb garden inside the kitchen could add to the overall appearance of the area.
Some homeowners increase their productivity when they have a beautiful kitchen to work on. Also, it adds a warm and welcoming ambience inside the kitchen. It can also be a significant advantage as it's easier to access fresh herbs when cooking.
Eat Fresh, Stay Fresh
The primary factor of having a healthy lifestyle and kitchen is to stock up, pile up, and eat up healthy meals. One excellent advice is to keep healthy fruits and vegetables where you're likely to fall into unhealthy snacking.
Instead of storing packs of sweets, chips, crisps, and biscuits around the kitchen, fill your bowls with healthy snacks such as apple, pears, oranges, clementines, bananas, and vegetables that are delicious and healthy. Foods that are easy to see are most likely the eaten first. Try to arrange healthy snacks on the kitchen counter, or in the middle of the dining table.
Light Your Kitchen Up
Improving your kitchen lighting could greatly help in the overall functionality and productivity of the area. Adding light is essential especially if you only have an overhead fixture. Try to add lighting fixtures above the countertop workspace as you're spending a lot of time working on the surface when you're cooking and preparing food.
Also, if you have the budget, you can add small lighting fixtures to your upper and lower cabinets to have a better view of the utensils and other kitchen equipment.
Display Smaller Bowls and Plates within Reach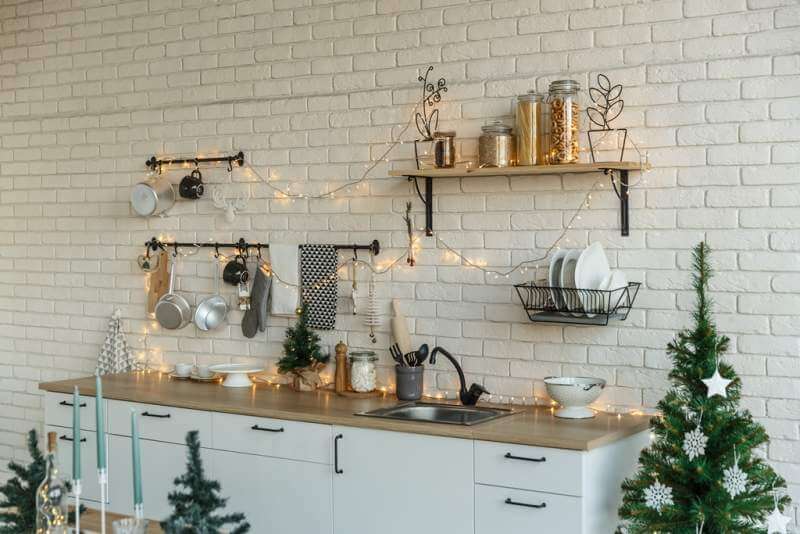 If you're keeping track about your health and you're on a diet spree, it's better to display smaller plates and bowls for an adequate diet regimen. A study suggests that when you're on a diet, it's better to eat on smaller plates as larger plates and bowls tend to mean more significant portions of meals.
This type of technique is useful not only on your healthy diet, but it also could add more storage space inside the kitchen as your larger plates and bowls will be on a storage cabinet and make sure that it's out of your reach.
If you're still hungry after eating on a smaller plate, then you can go back and have seconds. In this way, you can control the quantity of food you eat.
Keep Your Kitchen Tidy
One of the great and excellent things you could do to have a healthy kitchen is to keep it clean and tidy. You don't want to work in a messy kitchen or a cluttered surface that's full of unnecessary kitchen appliances. Tell your family to put their dishes away after eating to avoid any further mess inside the kitchen.
One excellent reminder is that after eating all the used dishes should go straight to the sink and have it ready for washing. Don't leave the plates unwashed as it could build up bacterias that could cause you and your family harm. A tidy and clean kitchen is always better to work with than on a messy workplace.
Takeaway
When you finish your healthy kitchen makeover, the area may look new to you. But a healthy-looking kitchen can always improve the overall functionality of the area. Consider these seven ways to achieve an organised and well-coordinated kitchen. Always remember this quote "eat healthily, stay healthy."
Author Bio
Lisa Jones is a full-time mother with three kids. In her spare time, she likes to read inspirational stories to her kids and teach them the values of life. On her free time, she loves to take her kids for a stroll in the park.