Are you recovering from a knee, leg, or foot injury? Were you advised by the doctor to use crutches to prevent bearing weight on your limbs during the healing period? Do you have a permanent medical condition that affects mobility, such as a physical disability, arthritis, back disorders, and neuromuscular disorders?
Crutches are the easiest to acquire and the most commonly recommended mobility aid with over seven million users yearly. Using crutches, however, can present a few difficulties.
Some common complaints associated with using crutches include:
Skin irritation on the armpits, especially for non-padded crutches
Sore joints and muscles on the neck, shoulders, and lower back
Slips, trips, or falls in rough surfaces and uneven pavements that could aggravate hip, leg, and foot injuries
Difficulty in navigating stairs
Limited use of hands and arms since these are needed to maneuver the crutches
Crutches could also slow down a person's movement because they are bulky and clunky to carry around. It's bothersome when you need to do simple movements like paying for purchases at the grocery store or transacting at the bank. It can also lead to bad posture development, especially if you failed to get the right specifications for your body type.
Fortunately, there are several technologically advanced alternatives to crutches that may be rented from medical equipment establishments. You might want to consider these mobility aids if you need to recover for more than six weeks or you have a permanent disability.
Using Rollator Walkers

A rollator walker has wheels at the bottom of each leg, making movement and navigation easier compared to using a standard walker. Designed for people with balance and mobility problems, a rollator walker allows you to take long walks despite your movement difficulty. Rollator walkers have brakes to make them easier and safer to use. There are many variations of this mobility aid, one of which is a foldable rolling walker, which folds down the middle, making it portable and easy to store.
Using Knee Scooters

Knee scooters are also called knee walkers, knee caddies, and orthopedic scooters. It's designed like a small bike with a handle, two balanced wheels on the front, and another set of wheels on the back. Instead of a padded seat in the middle, however, there's a knee support base with a raised platform where you rest your injured leg without having to worry about balancing. To use the knee walker, you'll need to push yourself around using your uninjured leg, the handles, and wheels to steer towards your desired direction.
Knee scooters can be folded so that it's easier to store and place inside a vehicle. You can also put a basket in front of it, just like a regular bike, if you'd like to store or carry a few things. It's also convenient to use outdoors since you can sit on it for a few minutes if you'd like to take a break from walking.
Some 86 percent of patients in a study on the usability of knee scooters found satisfaction with this mobility aid despite experiencing falls. Ideally, however, knee walkers are for people with ankle injuries. Since your injured leg rests on the support with your knees folded, it isn't recommended for people with knee injuries that require temporary knee immobilization. Using a knee scooter might also impede the blood supply to your legs if you're on the device for long hours.
Using Wheelchairs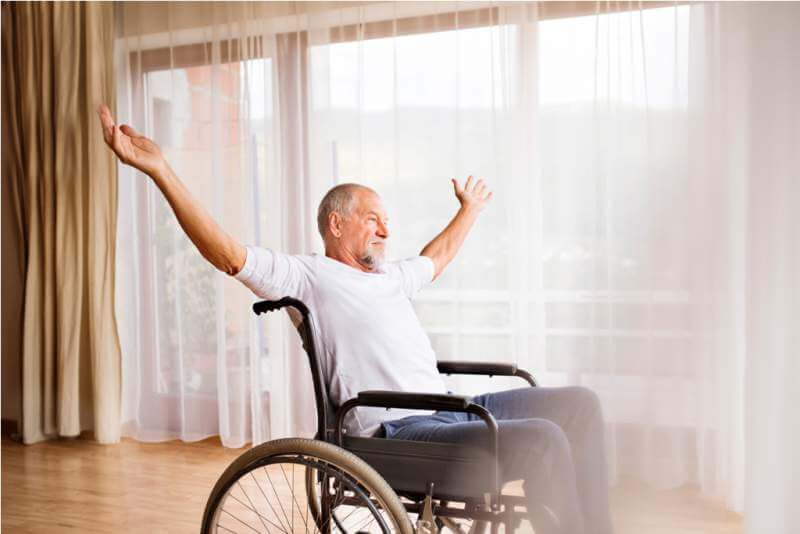 A wheelchair is especially helpful if you have to visit parks and other establishments where using crutches could be limiting and using knee walkers can be tiring. If you'd like to go around the site or if you're spending more time outdoors, a wheelchair offers more convenience and comfort, especially for older people with mobility issues and limited lower extremity strength.
A wheelchair provides more independence for its user. Nowadays, there are already power wheelchairs wherein you no longer need someone else to push you around. You just need to control the knob attached to the chair to go forward, backward, or turn. Going up and down ramps and elevated surfaces are also easier with a wheelchair.
There are, however, a few things to consider if you'd like to use a wheelchair as an alternative to crutches:
You have to get one that has a proper cushion on the buttocks and the back so you won't have posture problems.
It will require regular maintenance or repair, especially for electric types.
Because of its size, wheelchairs need bigger vehicles for transport.
You have to remember to always charge the battery of an electric wheelchair, otherwise, it won't work well.
Using Seated Scooters

Seated scooters work the same way as knee scooters, except you're more comfortable sitting down on a bigger and padded center instead of just resting your leg on the support base. Seated scooters are best to use for those with severe mobility injuries or issues. Like wheelchairs, they are also useful if you need to get around more often in public and crowded places.
Using a seated scooter is similar to using a bicycle with its handlebars. It's also equipped with a brake mechanism.
Some advantages to seated scooters include:
Price, as it's less expensive than electric wheelchairs.
Turning radius, as you can control seated scooters better, such as when inside a supermarket.
Mobility scooters, however, are more often linked to accidents. As a very transportable mobility aid, some users take it out for a spin like a typical motorcycle vehicle. A study revealed that seated scooters are best for indoor use but not efficient when used in grass or soil.
Before you purchase an alternative to crutches, ask your doctors for suggestions or advice since mobility aids come with a variety of features and options that you may or may not have extra uses for. Your overall health condition needs to be considered when choosing a mobility aid.
Regardless of what you pick, expect that there will be some drawbacks. Also, expect that you will need some time to learn how to use these mobility aids properly.