When you are out camping in the wild, there is nothing quite like cooking in the open. It provides a whole new atmosphere for you to really experiment and see what you are capable of creating. Of course, being out camping doesn't mean that you have to be unhealthy and you will find that there are loads of great and delicious meals that you can create without having loads of junk. Here are five of our favourite quick and healthy meals for you to consider on your next camping trip – and there will be more than enough for everyone to tuck in.
#1 Classic Mac and Cheese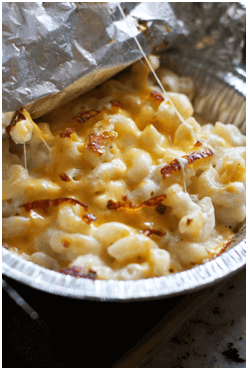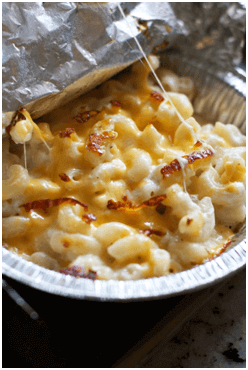 Serves: 4
Cooking time: 35mins
Ingredients:
– 400g macaroni
– 3-4 tablespoons butter
– 250g grated cheddar cheese
– 130g pack of diced chorizo
– ½ cup of milk
– ½ cup of flour
– Salt and pepper
Instructions: Cook the macaroni according to the instructions on the packet, then drain and set aside with a drizzle of oil to keep the pasta nice and loose. Once you have done that, melt the butter over a medium heat in a large pan. Next, begin whisking in the milk as you slowly add the flour. Keep stirring until the sauce thickens, and season to taste.
Stir in most of the grated cheese until it's melted, add the macaroni and chorizo, and cover. Cook for 5-6 minutes before removing the lid and adding the rest of the cheese. Leave to melt for a few minutes, then serve. You can also remove the chorizo if you don't fancy meat in your meal.
#2 Speedy Vegetarian Chilli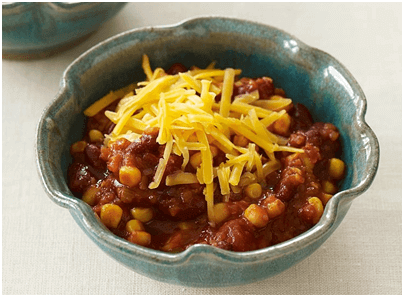 Serves: 4 
Cooking time: 30mins
Ingredients:
– X2 tins of chopped tomatoes
– X2 tins of chilli beans
– X2 tins of corn
– Bell peppers
– Avocado
– Grated cheese
– Onions
– Oil
– Spices (of your choosing)
Instructions: Cook the rice in a large pot of water and drain, placing it to the side ready to serve once the chilli has been made.
Add a nice splash of oil to the pot and then cook the onions until soft before adding the bell peppers to the mix. Then, pour in the chilli beans, chopped tomatoes, and corn before stirring them well so that the ingredients are all mixed. Allow to simmer for about 15 minutes and then season to taste.
Place the rice on plates ready to serve, and then top it with a generous amount of chilli. Add grated cheese and avocado if desired for a truly delicious camping chilli.
#3 Southwest Salad
Serves: 4
Cooking Time: 5mins
Ingredients:
– Bagged Southwest salad kit
– Black beans
– Corn
Instructions:Heat beans and corn in a large pan. Open salad kit and remove toppings, put these aside for later. Add dressing to salad in bag, and then re-seal bag by rolling down top edge and shake to distribute the dressing. Place the salad onto serving plates, and top with desired amounts of black beans, corn, and remaining kit toppings (tortilla strips and sour cream).
#4 Vegetable Burritos
Serves: 4
Cooking time: 15mins
Ingredients:
– Burrito tortillas
– Avocado/guacamole
– Bell peppers
– Shredded cheese
– Rice
– Beans
– Spices (of your choosing)
Instructions: Cook the rice in a large pot of water and drain, then place to the side ready to go in the burritos once everything is ready. Chop the bell peppers and sauté in a frying pan. Add the beans, spice as desired, and cook until beans are hot.
Reduce heat and warm tortilla by placing it over the mixture in the frying pan for about 30 seconds. Place tortilla on a flat surface, scoop mixture into the middle, add the rice, avocado, and cheese, then roll into a burrito.
#5 Quick Carbonara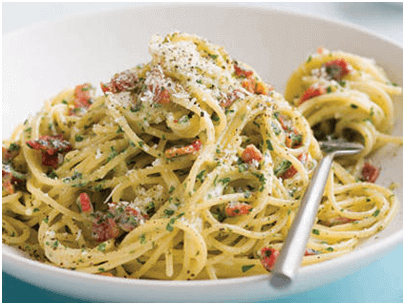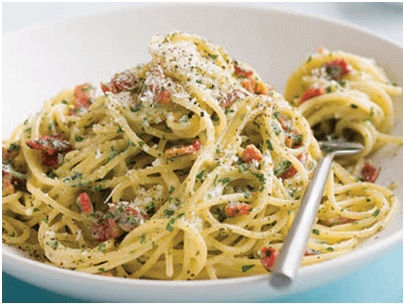 Serves: 4              
Cooking time: 30mins
Ingredients:
– 6 rashers of bacon
– 2 medium onions, sliced
– 400g mushrooms, sliced
– 2 cloves garlic, sliced
– A handful of rosemary, chopped
– 150ml single cream
– 400g spaghetti
– 2 medium eggs
– Olive oil
– Salt and pepper
Instructions: In a large frying pan, cook the bacon until it's browned and crispy, then remove from the pan and set aside to cool. Next, bring a large pan of water to the boil, and cook the spaghetti according to the instructions on the packet.
Add a generous splash of oil to the pan, and cook the onions, mushrooms, garlic, and rosemary over a medium heat until soft and golden brown. Return the bacon to the pan, turn down the heat, and add the eggs. Mix to scramble and allow cooking for 30 seconds.
Drain the pasta and add to the frying pan along with the cream, stirring to an even consistency. Season it to taste, and add any spices that you might want to give it a little more flavour.
To Conclude
We hope that you enjoyed the meal selection we have provided you, with some seriously tasty and very homey meals that are sure to keep you going and leave you feeling more than satisfied. Whether you fancy a light salad or a really good mac and cheese, there is something here that is sure to tickle your taste buds in all the right ways. Your next camping trip is sure to be one to remember, and a seriously delicious one at that!
About the Author
Gemma Tyler is a freelance writer and blogger. You can keep upto date by following Gemma on Twitter, Facebook & Pinterest. If you are interested in  more information on outdoor clothing, footwear and accessories, then check out her ultimate outdoor guides for more details