When you have to decide what to prepare healthy meals for kids for dinner, it will be much the same as lunch, but you have to keep this one simpler and lighter. As starting point, keep these following tips in mind:
Involve your kids – Children will probably eat what they have planned and prepared. By involving your kids into your dinner plan, it will likewise build up their self-reliance and life-coping skills.
Stay simple and light – A healthy, well-balanced dinner should not have to be complex. Kids are inclined to care for simple, basic top choices.
Bid variants– Add in nutrient-rich foods from all five food groups on the table, but let your kids pick what and how much to eat.
Bring in new foods gradually – It can take up to 15 times for a kid to accept another food, thus combining new items with old choices will satisfy your kids.
Center of family – Focus on your quality times with family, turn off TV and mobile phones, set the table, serve foods and beverages, and have a nice chat.
Try these tips combined with these dinner recipes for balanced and healthy meals for kids!
Egg and Toast Cups
Entice your kids into eating healthy meal for kids with this delightful mixed dish. You can also try to vary them. Add chives to one up and spinach to another, or exchange the bacon for ham. Be fun and creative!
Ingredients
6 slices whole-wheat bread
6 large eggs
1 tbsp plain butter, melted
¼ cup non-fat cheddar cheese, shredded
¼ cup tomato, finely chopped
¼ tsp kosher salt
¼ tsp freshly ground black pepper
2 bacon slices, cooked and crumbled
1 tbsp fresh chives, chopped (optional)
Direction
Preheat oven to 375°.
Flatten each slice of bread using rolling pin to make very thin layer. Trim crusts off the edge evenly. Grease both sides of slices with melted butter. Finely cut each slice diagonally.
Arrange 2 bread halves in each of muffin cups with cut sides facing, until covering the bottom entirely. This time you can make any fun and creative form of toast cups. Or else, you can make flower petal from the thin-sliced bacon. Bake for around 5 mins or until bread is slightly firm. Release pan from oven, sprinkle shredded cheese into each cup. Top each cup with chopped tomato.
Crack 1 egg into each cup; sprinkle with salt and pepper. Bake for 15 mins or until done. Take eggcups from pan; sprinkle evenly with bacon and chives, if desired.
Sweet Potato & Sausage Frittata
Hand over the task: Allow the kids mix this sugary delicious baked dish. If you make this healthy meal for kids in advance, bring it to room temperature before baking to reheat evenly.
Ingredients
1 cup Italian bread, cut into cubes
1 sweet potato
1 ½ tsp olive oil
1 cup uncooked bulk chicken breakfast sausage
¾ cup shredded cheese, divided
2 cups non-fat milk
¼ tsp ground nutmeg
¼ tsp ground cinnamon
¼ tsp black pepper
5 large eggs
Cooking spray
¼ cup maple syrup
Directions
Preheat oven to 350°.
Arrange bread on a baking sheet. Bake for around 20 mins, stirring once. Let it cool on pan for few mins.
Stab potato using a fork. Heat up potato in microwave at HIGH until cooked. Let it stand for a few minutes. Peel potato, and cut into cubes.
Heat up olive oil in a nonstick skillet over medium heat. Add in sausage, cook until browned, stirring to browned.
Mix in bread, sweet potato, half of sausage, and half of cheese in a large bowl. Combine milk and other ingredients in a bowl, stirring with a whisk. Pour over bread mixture, and toss smoothly to combine well. Let it stand for few mins.
Put mixture into a coated baking dish. Sprinkle with remaining half of sausage and half of cheese. Cover with foil lightly coated with cooking spray. Bake for 30 mins. Unfold aluminium foil; bake until browned. Let it stand for a few minutes. Drizzle with maple syrup.
Baked Mozzarella Bites
This quick healthy meal for kids serves as a swap to regular fried cheese sticks. You can serve it with any sauce and dippings of your kids' choices as substitute of marinara sauce.
Ingredients
1/3 cup breadcrumbs
¾ cup mozzarella string cheese
1 eggs, lightly beaten
¼ cup low-salt marinara sauce
Cooking spray
Direction
Preheat oven to 425°.
Heat up a medium skillet over medium heat. Add 1/3 cup breadcrumbs to pan, and cook until golden brown, stirring frequently. Discharge from heat, and remove in a dish.
Cut mozzarella sticks into small-bites. Go for one piece at a time, plunge cheese sticks in egg; roll in breadcrumbs. Arrange cheese sticks on a baking sheet coated with cooking spray. Bake until cheese is softened and thoroughly heated.
Stir in marinara sauce into a microwave-safe bowl. Heat up in microwave at HIGH until thoroughly heated, stirring once. Serve with mozzarella bites.
Chicken Kebabs with Mango Salsa
A simple colorful way of chicken dish filled with all goodness and delight, it will certainnya tempt your kids to have it more.
Ingredients:
2 tsp Asian seasoning
1 tbsp olive oil
1 tbsp limejuice
4 skinless chicken breasts, chopped into chunks
1 large yellow pepper, cut into cubes
3 tbsp dried thyme, to serve
Salsa sauce
300g mango chunks, diced
1 large red pepper, diced
Bunch spring onions, finely chopped
1 red chilli, chopped (optional)
Directions:
Combine seasoning, olive oil, and lime juice. Toss in chicken and let it marinate in the fridge for at least 30 mins or overnight.
Prepare salsa sauce by mixing all ingredients. Add in red chilli if your kids like extra hot spicy.
Heat up grill or barbecue to Medium heat. Divide chicken onto 8 metal skewers divided by yellow peppers. Grill for 10 mins each side until cooked through and lightly brown. Serve with salsa and sprinkle of dried thyme.
Old-Fashioned Spaghetti & Meatballs
In order to stretch ground beef, use high-fiber bulgur and whole-wheat breadcrumbs in meatballs, which are baked instead of fried.
Your kids will love this healthy meal for kids. You can use cannelli instead of spaghetti or other sorts of pasta. The taste of meatballs was wonderful. Your kids could eat this all day long.
Ingredients
MEATBALLS
½ cup lean ground beef
½ cup beef sausage
2 large egg whites, lightly beaten
1 medium onion, finely chopped
3 cloves garlic, minced
1/3 cup bulgur
½ cup hot water
1 tsp dried oregano
½ tsp salt
½ tsp freshly ground pepper
1 cup fresh whole-wheat breadcrumbs
SAUCE & SPAGHETTI
2 cups prepared marinara sauce
½ cup fresh basil leaves or fresh parsley, chopped
450gr whole-wheat spaghetti
½ cup freshly grated Parmesan cheese
Directions
Prepare meatballs by mixing bulgur and water in a small bowl. Let it stand until bulgur is tender.
Preheat oven to 350°F. Insert a baking sheet lined with foil.
Combine all ingredients and drenched bulgur in a large bowl to mix well. Form mixture into your desired-size meatballs. Spread meatballs on baking pan and bake until cooked through.
Prepare sauce by bringing marinara sauce to simmer in oven. Add meatballs to the sauce and let it simmer for a few mins. Lastly, stir in chopped fresh basil or parsley.
Fill a large pot with salted water to boil. Cook spaghetti according to package instruction until just tender. Drain and remove to a serving bowl. Top with meatballs and sauce, sprinkle with grated cheese.
Rainbow Chicken Salad
Both adults and kids will love this colorful, healthy salad! Made with fresh veggies and a delicious homemade peanut dressing, Rainbow Chicken Salad is healthy meal for kids. Use this color chart of veggies group you can use for your options of rainbow salad.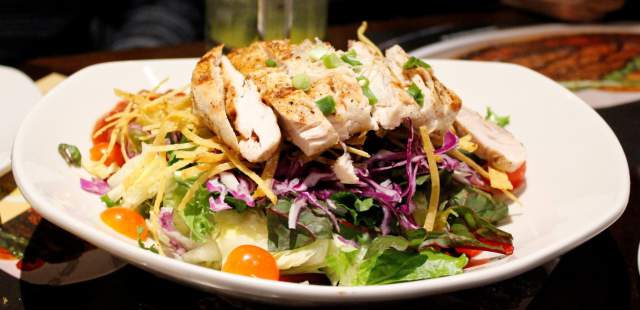 Red: Red Bell Pepper
Orange: Shredded Carrot or Tomato
Yellow: Yellow Bell Pepper
Green: Green Cabbage, Green Bell Pepper, Broccoli, Cilantro, Spinach, Avocado, Green Onion, and Limes
Violet: Purple Cabbage
Blue/Indigo: Blueberry fruit salad (desert)
Whipping up this healthy meal for kids is also perfect way to have a good chat with kids about remarkable healthy benefits of eating various naturally colorful foods! Red fruits and veggies serve as powerful antioxidants and may help reduce risk of cancer. Red and yellow ones are good for health of eyes and heart and immune system. Purple ones decrease the risk of stroke and heart disease. The key is this rainbow chicken salad has included them all in a bowl!
SALAD INGREDIENTS:
3 cups diced chicken, cooked
2 cups purple cabbage, shredded
1 cup green cabbage, shredded
1 large carrot, grated
1 red bell pepper, cored and chopped
1 yellow bell pepper, cored and chopped
1 avocado, diced
1 cup fresh cilantro, finely chopped
½ cup green onions, finely chopped
¼ cup peanuts, coarsely chopped
HOMEMADE PEANUT DRESSING:
½ cup peanut butter
2 tbsp hot water
2 tbsp vinegar
2 tbsp soy sauce
2 tbsp honey
¼ tsp sesame oil
1 tbsp limejuice
Directions
Combine all prepared salad ingredients to a large bowl and toss well.
Whisk together all dressing ingredients. Pour in hot water gradually to reach your desired consistency.
Mix dressing over salad. Serve it with diced chicken on top.
Easy Vegetable Tortellini Soup
When your kids crave something warm and comforting, this soup is quick and easy healthy meal for kids to whip up. It will get ready in less than 30 minutes, made with fresh carrots, celery, kale, and more. Anyway, the soup is cooked together in one pot and tastes great!
You can add a little more dried oregano, basil, parsley, dill, cilantro, and thyme. Kale cooks in very brief time so simply add a few more handfuls if you love kale in this soup.
Ingredients
1 tbsp olive oil
½ medium onion, chopped
2 cloves garlic, minced
1 medium carrot, sliced
1 stalk celery, finely chopped
5 cup veggies broth
1 ½ cup diced tomatoes
½ tsp dried oregano
½ tsp dried basil
½ tsp dried parsley
1/8 tsp dried thyme
1 ¼ tortellini pasta
3 cup kale, chopped
1/8 tsp salt
1/8 tsp ground black pepper
¼ cup grated Parmesan cheese
Directions
Heat up olive oil over medium heat in a large stockpot or oven.
Stir in onions to hot oil and cook until softened.
Add in garlic, carrots, and celery, and cook for another 3 mins.
Mix in broth, diced tomatoes, oregano, basil, parsley, and thyme to the pot.
Remove the mixture to a boil, then put in tortellini and cook according to package instructions.
Lastly, stir in kale, immediately remove from heat and season with salt, and pepper to taste.
Serve it hot, topped with freshly grated cheese.