Research shows that older people who are active, engaged, and connected are healthier than those who are not. However, it is sometimes difficult to gently persuade ageing members of your family to get up, go out, and engage in certain activities just to be active. This is especially true when they are suffering from conditions that prevent them from moving normally.
Be that as it may, you should not give up on them. Instead, speak with them and discuss the benefits that they will get from staying active. Even though they have mobility issues, there are still plenty of ways they can move their body, socialize with their peers, and maintain a happy and healthy life.
Here is how you can keep your elderly loved ones in a physically and mentally active routine:
1. Encourage them to go on daily walks.
Walking is one of the best low-impact exercises that are really helpful for older people. As doctors recommend, you should at least let your aged loved ones spend at least 30 minutes of moderate walking every day.
It does not necessarily mean that they have to leave the house with the sole intention of "going for a walk". A walk around the garden to tend to the plants or strolling to a nearby shop to buy some personal items will definitely count.
2. Let them help with doing household chores.
This is one easy way to ensure your ageing parent or grandparent remains active. If they are receiving care at home, either from a family member or a professional caregiver, you should encourage them to do some light housekeeping tasks. They would even gladly do so to maintain a sense of independent living.
If they live in a care home, you can ask the facility administrators if it is possible for your loved ones to get involved in caring for their rooms any way they can. Maybe, they can do the dusting themselves.
3. Let them join a community organisation.
According to a study by Aged & Community Services Australia (ACSA), quality social engagement helps alleviate loneliness and depression amongst older people.
With that in mind, you can let your elderly loved ones join a community organisation or a special interest group to keep them engaged. Surely, these groups have activities they will enjoy. Afternoon teas, brain games, arts, and crafts—these are just some of the sociable activities that stimulate their mind and keep their body moving.
4. Create a low-level exercise regimen for them to follow.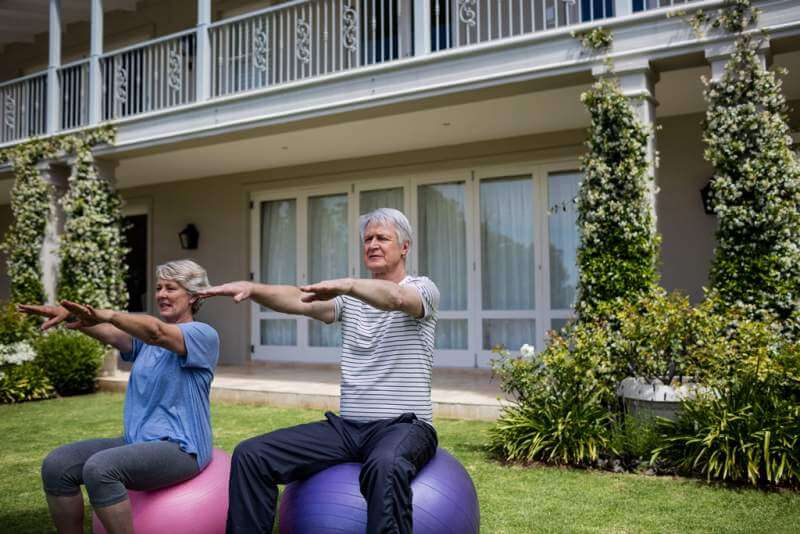 Aside from going on daily walks, your ageing loved ones can also have a low-level exercise regimen that they can follow even if they have limited mobility. For example, they can perform exercises while they are seated. These can include simple leg raises to lifting weighted objects, depending on their capability.
Remember that being sedentary can harden their muscles and nerves, so it is best that they keep moving their body as much as possible.
5. Help them find a hobby.
Remember the things your ageing parent or grandparent used to love doing. Then, work on adapting those activities to keep them occupied.
For example, did they crochet in the past but stopped doing it due to visual problems? Or, did they love reading? You can find ways to make them see better, such as giving them larger crocheting hooks or magnifiers, and enjoy what they love doing once again.
You can even suggest new hobbies that you think they might enjoy. You can speak with an occupational therapist to get an idea on which auxiliary activities would best fit the needs of older people.
6. Take them to events they may enjoy.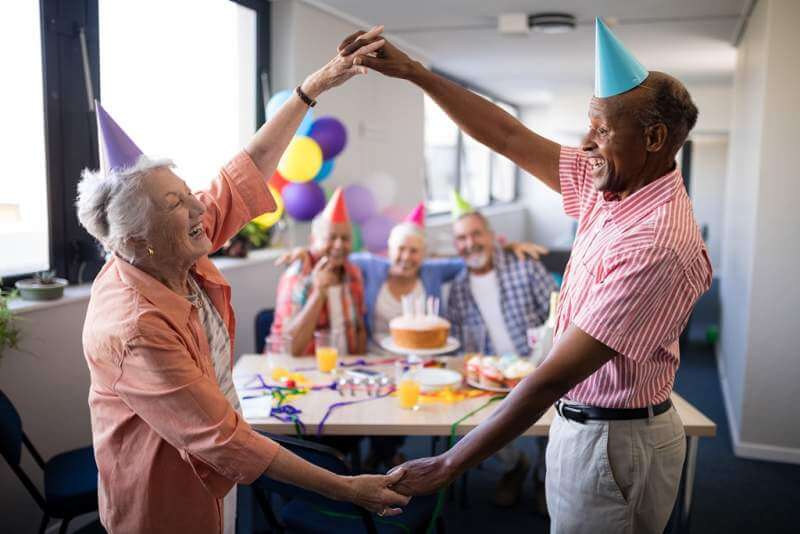 Theatrical performances, community festivals, and comedies are just some of the events you can enjoy with your elderly loved ones. If you are too busy to take them to these events, you can ask other family members. You can even hire a professional caregiver to do it for you.
The important thing is you are helping them do things outside that they could have never done alone.
7. Urge them to use their assistive devices more.
Assistive devices, such as mobility scooters, walkers, and hearing aids, are created to make it easier for older people to move and communicate. While you can hire a caregiver to assist them in doing their Activities of Daily Living (ADLs), such as washing their clothes and bathing, these devices encourage them to visit their neighbor's on their own and socialize.
8. Invite their friends over to your house.
Whether it is for a special occasion or a simple dinner, you can invite your ageing loved ones' friends to your home. Again, this gives them the chance to engage in active socialization.
Just make sure that you and other members of your family help with preparing the meals. If all family members can lend a hand, it will make a positive impression on your elderly that you care much for their happiness.
9. Consider senior living options.
Placing your loved ones in a senior living community is the best move if there is no one to assist them at home. By and large, this facility has programmes designed to keep residents an active, healthy, and connected. These include group exercise classes, events held inside the facility, and trips to neighbouring communities.
Conclusion
As people age, it is unavoidable that they will develop mobility problems due to certain reasons. However, this does not necessarily mean that they should cease to be active. It is all the more important to be physically and mentally healthy in old age.
Staying active helps lower the risk of stroke, heart disease, diabetes, dementia, and other conditions associated with a sedentary lifestyle. In addition, it keeps your elderly loved ones away from depression and gives them a sense of independence, too.
Whether the activity involves low-impact movements or just a trip to a certain place to socialize with their peers, it will definitely help in maintaining a healthy lifestyle.
Author Bio:

Adam Jones is a health blogger, writing articles about the conditions that commonly affect the older population, such as dementia, Alzheimer's disease, amyotrophic lateral sclerosis (ALS), and Lou Gehrig's disease. He is also an advocate of aged care quality. He believes that a company that helps seniors stay active and healthy with quality care programmes is the best choice for a centre.