A healthy and glowing skin adds so much to our beauty that we always keep experimenting with ideas to keep it young and beautiful. However, it actually is not that tough to get a healthier-looking skin if you can stick to a good skin care routine.
Leading a stress-free and relaxed life, eating well, sleeping on time, using good quality skin care products like lifecell anti-aging cream, protecting skin from harmful sunrays etc. are few of the simple things that can give you visible results in no time. Following is a list of 10 simple skin care secrets for healthier-looking skin. Make sure to read them all and implement the ones that you would be able to follow without much difficulty-
1. Quit smoking

Apart from other health issues, smoking is also known to fasten aging. Smoking makes your skin appear dull and lifeless. It may also worsen pre-existing problems like hidradenitis suppurativa, psoriasis etc. It is the worse thing that you can give to your skin. It not only affects your health but your skin.
2. Consult professional help without a delay

Never ignore any skin issues or delay appointments with the dermatologist. The early a problem is detected, better is the chances of getting it cured. It is really very important to take care of the skin as it is the only part which is exposed. Everybody can see it therefore it should be take care of. It is really very important to consult a professional if we have some problem. We should never take any risk as it could harm us.
3. Know your skin

Your skin and its need may not be similar to your friend's or your sister's skin needs. Know your skin and figure out which brands or type of products suit you. Never apply the products on your skin which do not suit your skin. It would create problems and would make skin dull and prone to many problems. It is really very important for us to know our skin first, only then we can apply things to it. There are many products in the market that suits oily skin. If a person having dry skin applies those products then she'll definitely suffer from any skin problem.
4. Shower after sweat

It is really important to take a shower every time you engage in any activity that causes a lot of sweating. This will help you remove the dirt and bacteria from your skin. If sweat builds up on the skin, it will clog the pores and not allow your skin to breathe.
5. Maintain a healthy lifestyle

A healthy and balanced lifestyle goes a long way in keeping your body active and your skin young. Stick to a balanced diet and maintain good eating habits.
6. Stay hydrated

Dehydration may make your skin lifeless and fasten the appearance of aging-related skin problems. Include a lot of watermelons, coconut water, green tea, milk and water in your diet. Drinking an adequate amount of water daily is important for overall good health because water aids in digestion, circulation, absorption and even excretion. If your skin is not getting the sufficient amount of water, the lack of hydration will present itself by turning your skin dry, tight and flaky. Dry skin has less resilience and is more prone to wrinkling.
7. Take care of your skin

Don't just focus on your face, you also need to pamper the skin on your other body parts. Use a moisturizer, buy soaps that are gentle to your skin and make everything that you can do to take care of your skin. Keep your skin healthy by following balanced and healthy diet. One should take care of its skin as this is the most exposed part of our body. Wash your skin thrice a day so that the impurities can be taken off. Use a good quality sunscreen lotion. It would not only help your skin from harmful UV Rays but would make your skin glowing and healthy. Apply sunscreen everyday so that it could protect your skin from being damaged.
8. Protect your skin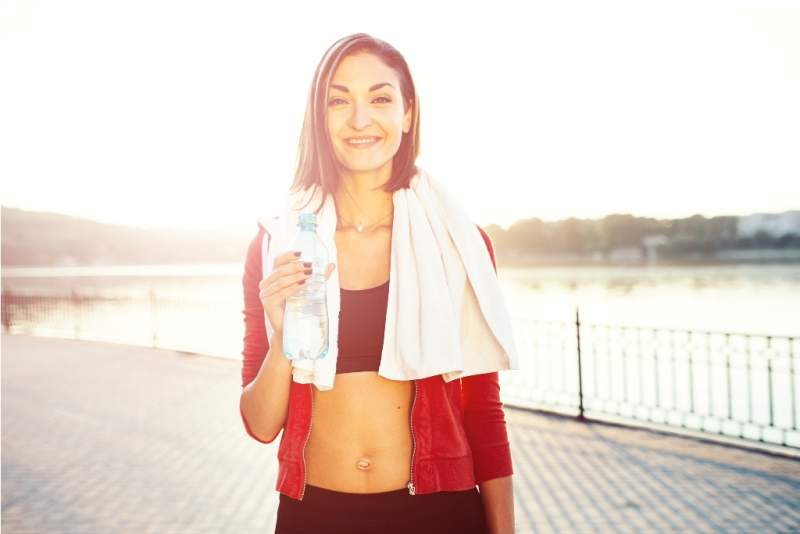 Protect your skin from harmful sun rays, pollutants and below the standard skin care products. Use a good quality sunscreen, try not to expose too much skin to sun and never forget to carry your umbrella along. Sunscreen is the closest thing we have to a fountain of youth. It really can slow down skin aging. It can also help prevent skin cancer. Look for a sunscreen that offers broad-spectrum protection, SPF 30, and is water resistance.
9. Nourish your skin

After its day long hard work, your skin deserves some pampering. Nourish your skin with a good quality cream like the Lifecell cream that comes with anti-aging and anti-wrinkle properties. This cream fights against multiple skin aging issues like dark spots, dark circles, wrinkles, dehydration etc. Prefer a good quality product which is made up of good and natural ingredients as it won't harm the skin. It is really very important for us to know the ingredients that are used to make any product. The products having good quality ingredients would always show great results as compared to those products which are made up of poor quality ingredients.
10. Rest well

Never compromise on your sleep if you want to have a healthy looking skin. Try to go to bed and wake up on approximately the same time. A good night's sleep can mean good skin health because when you're sleep-deprived, your body makes more of the stress hormone cortisol. Elevated levels of cortisol can lead to increased stress and inflammation in the body, hurting your skin's quality. Poor sleep can lead to increased stress hormones in the body that increase the severity of inflammatory skin conditions such as acne or psoriasis.
It is never too late to start pampering your skin. Make sure to try the above mentioned secret tips to prolong the ugly signs of aging. Stay healthy and look beautiful.