Purchasing the correct and proper shoes is an excellent investment for the health of your feet. However, how do you look for the ones that offer the right fit and sufficient support to your feet?
The type of shoes you wear on your feet is probably one of the things that most people observe about you. Thus, having an excellent shoe makes a great first impression. But, fashion shouldn't be the only thing that you must take into consideration when shopping for shoes. Foot care is also significant and disregarding it can lead to numerous foot ailments.
When buying a new footwear, you have to have more than style and fashion in mind. And you will also have to think about its function and making your feet in an excellent shape. For a little help, listed below are six tips for purchasing shoes that are great for your feet.
Inspect The Soles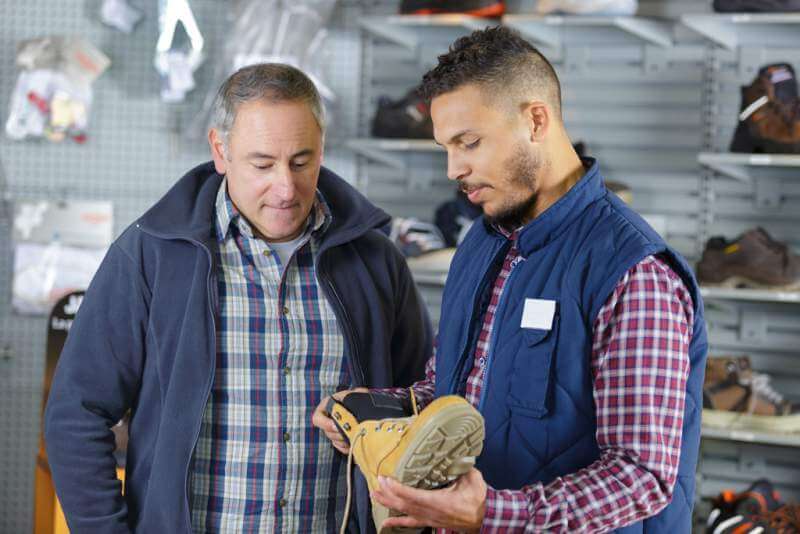 When buying shoes, it is very important that you take a look at its soles. Flip the shoes over and study the soles. Makes sure that they are solid and durable enough to provide the best armor when it comes to sharp objects.
Moreover, test the sole by walking around the store. Make sure that the soles cushion is against impact. Also, try walking on hard areas as well as nappy floor covers to know how it feels. The soles of the shoes should offer you sturdy footing, and it should not be slippery.
Shop In The Afternoon
Go shopping in the afternoon because your feet normally expands during daytime and might swell in warm weather. Try to shop for shoes after three in the afternoon. Feet expand after some walking, so by shopping shoes in the late-afternoon, you will make sure that you will have the most comfortable and appropriate fit.
Walk Around And Stand In The Shoes
Although the shoes feel adequate and comfortable, you should move and stand with them to be able to examine them more. Check if there is sufficient room (at least half an inch) at the front space of the shoes to let your feet to put forward when you move along.
Make sure that your heel fits comfortably in the shoe without any slipping. The correct and accurate footwear for your feet shouldn't move upward and downward as you walk.
To find out how they feel, you must walk around in the shoes. Make sure that there is enough space at the balls of the feet. Determine if the heels fit comfortably or they slip or pinch off. Do not reason out that the shoes require to be stretch and extended with time. Look for shoes that fit in the beginning.
Let A Sales Representative Measure Your Feet
Do not let yourself measure your feet alone. Have a sales representative measure your feet. Have them measured every time you shop for new shoes. Remember that feet change as you age, sometimes it grows wider and larger.
If one of your foot is bigger than the other one, make sure to purchase a size intended for the larger one.
Furthermore, a knowledgeable salesperson can verify the height of your arch by only looking at your feets base. They can also make some suggestions and recommendations to help you out with your problem.
Examine The Materials
Nearly all shoes are customarily made up of leather. However, there are a lot of types and grades of leather. And each type and grade has its specific characteristics. For instance, the suede material does not need to have a lot of polishing and also patent leathers.
Furthermore, there are also Women's Shoes that are made up of animal skins, such as ostrich or alligator skin. But not all people are fancy to wear an animal skin-made shoes, so they stick with natural fibers or synthetic materials.
Determine The Activity You Engaged In
Before you even buy or shop for shoes, make sure that you determine the activity you engaged in or an event. For instance, when you head out to the beach, you won't want to wear boots or flip-flops, right? It is not right.
When you go hiking, go for brogans or low cut boots, with tractions soles, sturdy soles, enough arch support, and great ankle support. On the other hand, when you go for outdoor activities in cold-weather, find for shoes with traction soles.
Furthermore, for athletic shoes, for every sport that you engage in there is a specific line of footwear. Thus you should talk with an experienced sales person to look for the most fitting shoes that you need for specific sports.
For dress shoes, although the style and design is the main concern, take time to consider how much walking you will do. Go for shoes that are more than comfortable. Find for shoes with a lower heel height and with a remarkable style.
Takeaway
Searching for the right pair of shoes is not just a simple thing, however, with loads of variety of footwear for different activities and advanced production and material, this is probably not valid anymore. Go for shoes that offer the best comfort and shape for your feet. Follow all the tips above so won't have any problem in choosing the best shoes that are great for your feet.
Author Bio
Lisa Jones is a seasoned fashion blogger. She continually travels to other places to collect and earn ideas about fashion. When not working, Lisa plays guitar with her bandmates in a pub.