Old people need extra help to live at home weather that help with gardening bathing wapking air transport. Sometimes it is not possible for you to physically present to take care of your loved ones. That's why it is necessary to take the help of home care services. Though you will find the various home care services online, to find the right one can be a daunting task. Which is why we have mentioned some important tips for choosing the right home care for your loved one.
Choosing home health care service that is certified, insured and bonded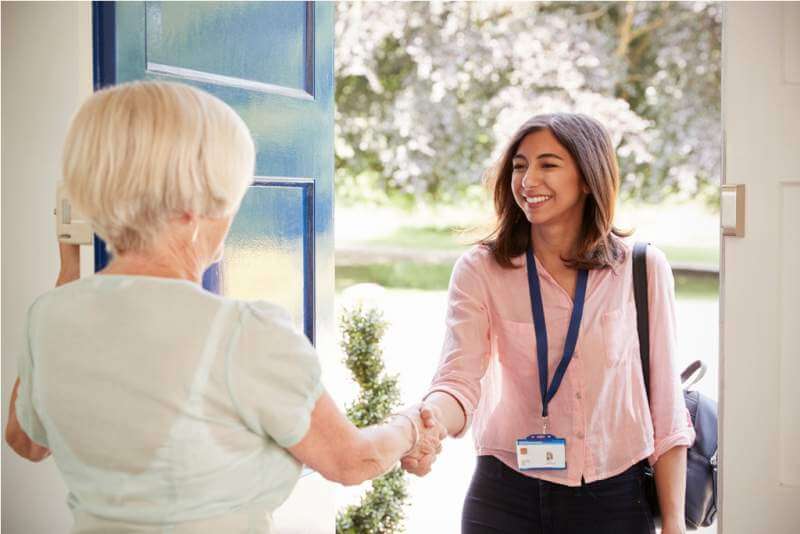 Hiring a home health care service that is certified, insured and bonded is crucial since these credentials imply that they will take responsibility in case of an incident or accident. To be assured, ask for a copy of the senior care service's insurance accord, including bonding. If they are unable to provide one, then you can choose another senior care service. Moreover, it is necessary to look for the home health care service that offers worker's compensation insurance to their employees. Because if a caregiver gets injured while taking care of your loved ones, then the insured home health care company takes responsibility for the accident.
If the agency is not insured, then the caregiver may compel to report the claim against your parent's homeowner's insurance. If no rider has been purchased on their homeowner's policy, then they might end up paying from their own pocket expenses and which you obviously don't want them to go through.
Look for a reliable Home Health Care Service
If you are looking for a home health care service that actively provide the best quality care to your loved one, then in order to choose such service it is also necessary to determine whether their service is reliable or not.
In order to check the trustworthiness, you can start by paying close attention when communicating with home health care representatives. Observe whether the individual speaks about the negative attributes of other homecare services or nothing but about their own services. Your home health care service should be someone who takes interest in finding the best long-term care solution for your elderly parents.
Pose the following questions when speaking with your home health care service in order to help you make the right decision:
Do they partner with the support system and client to develop an individual care plan?
Do they assess in advance?
Is their care plans are long-term and effective?
How long have their employees been with them?
Do they conduct employee background checks?
Do they provide quality care checks in the home? Who does them?
Are they able to provide you a list of references to current and past clients?
Finally, the agency you choose should have personable, kind, experienced caregivers. A reliable and professional agency like Encore Care Homes will always provide your parents with a caregiver who will not only care but also improves the quality of their life.
If your home health care service sends a caregiver who seems unhappy or unenthusiastic to be assisting your parents, the chances are high that they are not the right choice and don't worth your time and money.
Know what your requirements are?
Before you hire a caregiver, find out what type of care your elderly parents need, whether it is skilled nursing care, personal care or Alzheimer's care. Make certain the service you choose provides trained and friendly home health care employee who meet your requirements and budget as well.
Assessing the Need:
The home health care service you choose should start with performing an initial assessment by an experienced nurse or another healthcare worker so that the level of services required can be determined. You may have done an informal assessment on your own, but a trained professional knows what to look for and advice.
Constant Assessment:
It is an undeniable fact that the elder people's requirements increase over the time. See whether the agency has a procedure set up to assess your ageing parents to decide whether there are any changes in services that are required later on.
Caregiver Training:
In order to provide the high-quality, appropriate care to your loved ones, the home health care service hired by you should provide its caregivers best training from time to time. So, that they can recognise changes in service requirements and can report health concerns.
Services Offered:
Ask whether the caregiver assigned to your parents has the right background to perform the job. You might be looking for someone with good cooking skills or can also help with personal care like bathing, grooming and tidy up around the house. Mostly you will require caregiver who is licensed to drive and must have the ability to supervise and medication.
Continuity of Care:
It is necessary that only a few people take care of your loved ones. Having the same caregiver for a long time helps the elderly people to form a relationship easily and continuity insures that the caregiver will be acquainted with routines and required services. Ask about the rate of replacement from the home health care services and what happens if you need a substitute caregiver.
The Care Plan:
It may be essential to you and your elderly parents to contribute to the care plan. The companion can make suggestions like visiting the park, library, shopping, participating in a social activity or taking in a movie.
Continuing Monitoring:
Now that you have hired the services of a home health care agency you can monitor just to make sure your ageing loved one is getting the proper care from a trained caregiver from the right agency.
Choosing the reliable home health care service for your ageing loved ones doesn't have to be a hard decision when you know exactly what to look for in an agency.