When you feel like your body is in good shape but you feel unhealthiness squirming on your insides, the best thing you can do with yourself is starting to eat healthy. Take a cozy massage in a recliner, do a light workout every once in a while and you are set for life.
There are some ups and downs you have to adjust to your diet when you are eating for a specific cause like losing weight. But, to keep your heart in good shape, the ideal diet requires you to eat food from every food group and try to not exceed a set number of calories.
The diet plan we have set for you, ranges from 1200-1400 calories and includes food from all food groups like carbohydrates, fats, protein, and fiber. It also contains healthy sub-groups of foods like those that contain omega-3 fatty acids and healthy vitamins.
In recent studies, scientists have also figured out that the key to a healthy digestive system and quicker metabolism is eating small meals throughout the day. So instead of giving you hefty portions of breakfast, lunch, and dinner, this diet has taken some of the calories from these three meals and included them in snacks that you should take between each meal.
So without further ado, let's get started on your Seven Day diet plan:
Day One
Breakfast
Start your day with a large, fresh egg. Choose between toast and an English muffin and between avocados and romaine lettuce. Mash the avocado for a lovely texture and season the egg with a pinch of salt.
Snack
Take a handful of almonds
Lunch
Smoked Salmon with fresh avocados and a fruit of your choice (preferably an apple or a peach)
Snack
Eat a medium-sized orange
Dinner
Vegetarian Frittata with potato salad, bran bread, and low-fat ice cream
Day Two
Breakfast
Make a smoothie bowl with non-fat Greek Yogurt, blueberries, honey and almonds. Top the bowl with some chia seeds for delicious, added texture.
Snack
Carrot sticks with low-fat cream cheese
Lunch
Chickpea salad with veggies of your choice; try tomatoes, cucumbers, and avocados, perhaps?
Snack
Eat a medium-sized apple
Dinner
Chicken and pita bread sandwich, with low-fat sour cream. Add a hefty portion of salad into the sandwich, including iceberg lettuce, tomatoes, carrots, and cucumbers.
For dessert, eat non-fat yogurt.
Day Three
Breakfast
Take bran cereal with skimmed milk. Add a fruit of your choice, like apricots or peaches, to fill up a little more.
Snack
Chunky peanut butter and a large apple
Lunch
For lunch, make yourself a cottage cheese and noodle salad, with a salad dressing of your choice (try including olive oil) and veggies like tomatoes and cucumbers.
Snack
Carrot sticks with hummus
Dinner
Make yourself a delicious serving of chicken breast, stuffed with ricotta cheese and spinach, drizzled with olive oil. Have a peach cobbler for dessert afterward.
Day Four
Breakfast
Cook up a serving of rolled oats in milk. Serve it in a bowl and top with strawberries, blueberries and chia seeds.
Snack
Eat a large orange.
Lunch
Make a tuna salad for lunch, with white or red (kidney) beans, tomatoes, cucumbers and a dressing of your choice.
Snack
Low-fat yogurt with almonds and honey
Dinner
Make a bowl of spaghetti squash with meatballs and tomato sauce. Eat a honeydew melon for dessert.
Day Five
Breakfast
Go back to your classic egg sandwich for breakfast on day five. If you used bran bread on day one, go for an English muffin on this day for variety. Use tomatoes instead of avocados if you want or better yet, make a salsa spread. Yum!
Snack
A ¾ cup of blueberries, strawberries, and raspberries
Lunch
Since you already went through the trouble of making salsa for breakfast, why not re-use it for lunch? Fill the salsa in some small tortillas with black beans and reduced-fat cheddar cheese and make yourself a delicious quesadilla. This day is almost like a cheat day.
Snack
Peanut butter with celery sticks
Dinner
Make some smoked salmon sushi rolls for dinner. Consume it with some reduced-fat ice cream.
Day Six
Breakfast
Bran cereal with skimmed milk, topped with strawberries and chia seeds. Eat a medium-sized peach along with it.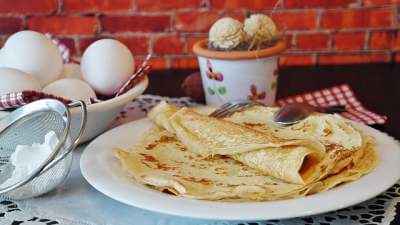 Snack
Handful of roasted almonds
Lunch
Use bran or multigrain bread to make a tuna sandwich, with low-fat mayonnaise and iceberg lettuce.
Snack
A large peach
Dinner
Make yourself a steak with some lean meat. Eat it with green beans or asparagus. Take it with a banana smoothie with low-fat Greek yogurt or milk.
Day Seven
Breakfast
Make yourself some salmon on rye with a spread of mashed avocados. To stay up on the health meter, top it with a few slices of tomato.
Snack
Blueberry smoothie topped with chia seeds
Lunch
Make a chickpea salad with tomatoes cucumbers and avocados, with a salad dressing of your choice. Eat it with a honeydew melon.
Snack
One medium-sized orange
Dinner
On the seventh day of your healthy diet plan, go a little crazy and make a cauliflower pizza. In case you haven't watched the scores of videos on the internet with how to make a cauliflower pizza, don't fret; it's really simple.
Break down a cauliflower and run it through a food processor. Wrap it in a cotton cloth and squeeze really hard to get rid of the water content. Use the remaining cauliflower as a dough and make a pizza base. Spread some tomato sauce on it, add toppings of your choice (like diced chicken, tomatoes and onions), and top it with some fresh mozzarella.
Bake it in your oven and you have the healthiest and tastiest alternative for a pizza in front of you.
This diet is great for everyone; from diabetics to overweight people and generally healthy and active people. Substitute any products with more suitable ones in case you have allergies or are sensitive to that particular food. The most common substitute you will need is for nuts and you can easily change it with a fruit of your choice.
About the Author:
Sara is a psychologist by profession, and she loves massage therapies. She enjoys home-based work and traveling. She is obsessed with massage chair treatments and other relaxing techniques. She regularly blogs at https://mymassagechairs.com/.