Kicking off your days with 17 days diet recipes and its healthy variants may sound perfect. Before I review about the recipes, let me describe briefly about sample menu of cycle 1. This 17 days diet recipes should be based on allowed or restricted foods in every cycle. Accordingly, you will gain clear picture of 17 days diet cycle 1 and able to stick on it for your own good. You could freely modify this sample menu according to your needs and available ingredients in your local market.
Sample Menu of 17 days diet – Cycle 1
The basic rule of 17 Days Diet Cycle 1 (Accelerate) is restricting carbs, starchy veggies, fruit juice, snack, sugar, saturated fat, dairy products, and alcoholic drink.
Early Morning:
Hot lemon water
Breakfast: 
Spicy egg white omelette with kimchi and sliced tomatoes
1/2 medium prickly pear cactus (dragon fruit), cut up
1/2 cup of plain yogurt or sugar free fruit flavored yogurt
Green tea
Lunch:
Soy marinated grilled chicken breast
Roasted zucchini, asparagus, and carrot
Green tea
Mid-Day Snacks
1 cup of boiled or roasted baby carrots
1/2 cup of plain yogurt or sugar free fruit flavored yogurt
Dinner:
Tempeh sandwich
Steamed broccoli and cauliflower
Green tea
Water consumption: eight glasses of plain water or purified water
While exploring tasty plus healthy meals, I discovered some recipes online. I have adjusted them to some extent for the 17 days diet meal plan and absolutely my special fondness. This would be perfect dishes to start your days in Cycle 1. Based on these recipes, it would be great if you can make your own healthy dishes by slightly modifying it. Just keep in mind that these recipes are also best for all 17 Days Diet Cycles.
Breakfast Variants for 17 days diet recipes – Cycle 1
Spicy Veggies Egg White Omelette
One way to spice up your egg whites is using this easy and tasty 17 Days Diet recipe! I hope you are familiar with kimchi (Korean cabbae), because I have one delicious omelette recipe to share with you today. It is my new favorite one. I used a mixture of egg whites, kimchi, sliced tomatoes, green onions, cayenne pepper, red chili, and low or non-fat mozzarella cheese.
This omelette is very chewy! Try just one bite, and you will crave more. I love the green and red colors. This spicy omelette would be great for breakfast, add it to your menu today!
Ingredients:
3/4 cup egg whites
Dash of cayenne pepper
Dash of red chili flakes
Dash of kimchi (Korean cabbage)
One medium tomatoes, sliced
Green onion, chopped
One clove onion, minced
Two cloves garlic, minced
Salt and pepper to taste
1 tsp olive oil
Sprinkling of low or non-fat mozzarella cheese (optional for flavor only, not as main ingredient)
Instructions:
Combine your egg whites, kimchi, and seasonings. Stir well.
Warm up 1 teaspoon of olive oil into saucepan.
While egg whites will just about have done, sprinkle a small pinch of cheese and let it melt. Fold omelette over and serve hot!
Asparagus Fried Egg
Exploring creative and fresh ideas of low-carbs breakfast for 17 Day Diet Recipe could be tricky sometimes. Here is another simple yet tasty egg dish that features asparagus!
Ingredients
5-6 stalks Asparagus
1 tsp olive oil
¼ tsp salt
Two eggs
¼-cup low-fat Parmesan cheese, grated
Oregano
Basil
Pepper to taste
Instructions
Heat olive oil in pan over medium heat. Add asparagus to the skillet alongside sprinkle of salt. Stir fry asparagus and cook until tender for 4-5 minutes.
Spread asparagus out and crack eggs in the center. Sprinkle cheese over asparagus and eggs. Cover and let cook until egg whites and yolk are firm and done, as you desire. Sprinkle with oregano, basil, pepper and serve it hot.
Note: If you like, you may fry eggs in separate pan, or poach eggs if you like better cooking style with no oil. You can also put in other seasonings to spice up your asparagus fried eggs.
Light Veggies Casserole
Set off your morning with this healthy and simple breakfast casserole. Make this casserole and have standing-by breakfasts for your entire week!
Ingredients
12 eggs
1/2 cup mushrooms
1/2 cup broccoli, chopped into small florettes
1/2 cup tomatoes, chopped
1/2 cup zucchini, chopped
1/2 cup onion, chopped
3/4 cup low fat Parmesan cheese
1 tbsp sage (other Italian seasonings)
1 tbsp olive oil
Salt & pepper to taste
Instructions
In a frying pan, heat the olive oil. Add in onion, zucchini, tomatoes, mushrooms, & broccoli. Saute about 5 minutes. Put all of them to a baking dish. Scramble eggs inside it. Pour veggie mixture into the baking dish. Stir in cheese. Sprinkle salt, pepper and other seasonings to taste. Slowly stir well. Bake at 375 degrees for 20 minutes. Check middle with a fork to make sure it cooked through. Serve it hot.
Main Dishes Variants for 17 days diet recipes – Cycle 1
Tempeh Sandwich
Tempeh is one of allowed foods in all 17 Days Diet recipes. It is vegan, gluten-free yeast-free, high-protein, low-carbs, mineral-rich, no-kneading and obviously healthy recipe that is very satisfying. This sandwich is pretty smarts and creative idea. You will need less effort and the result is truly crispy and stringy "bread" like texture. It is perfect to stuff it with anything you want! Who knew there were so many uses for tempeh? I think you must try this tempeh sandwich. Just pull out all leftover veggies in your fridge and eat them for lunch.
Ingredients
One block tempeh, cut in half with four large flat pieces, bake in preheated oven for 10 minutes (If you like, you can marinade tempeh with your favorite marinade spice)
1/2 whole roasted red pepper
1 tomatoes, sliced
1 small onion, sliced
Four tbsp guacamole
Two tbsp spicy mustard
Handful of spring greens or lettuce
Instructions
Spread guacamole on two of tempeh bread slices and spicy mustard on the other two. Arrange the rest of veggies on one-half, and then place the other half on top. For another choice, add in whatever spreads and veggies you have leftover on tempeh bread!
Veggie Slimming Soup
Set up your weight-loss plan with this low-fat veggie soup adapted from 17 Day Diet Recipes.
Ingredients
3 cups cabbage, chopped
3 large celery stalks with leaves, chopped
2-cups crushed tomatoes
1-cups cauliflower, chopped into small florets
8-cups fat-free chicken broth
1/4 teaspoon pepper
1-cup veggie juice
3 tsp salt
2 large onion, chopped
Instructions
Place all ingredients in a large pan and simmer for one hour, or until the veggies are soft. You can consume it on Cycles 1–4.
Turkey Lettuce Wraps
An amazingly healthy, low-carbs dish, filled with tons of flavor and protein! Turkey is one of allowed foods in all 17 Days Diet recipes. It is easy to make within just 20 minutes in just one pot! See how easy is that.
Ingredients
1 tbsp olive oil
1 pound ground turkey
1 tbsp taco seasoning
1-cup salsa
2 tbsp chopped fresh cilantro leaves
One can diced green chiles
One can corn kernels, drained
One can black beans, drained and rinsed
Salt and freshly ground black pepper, to taste
1 head butter lettuce
1/4 cup reduced-fat sour cream, optional
Instructions
Heat olive oil in a large skillet over medium high heat. Add ground turkey and cook until browned, about 3-5 minutes, ensure to crumble the turkey as it cooks; drain excess fat.
Stir in salsa, green chiles, and taco seasoning until heated enough for about 2-3 minutes. Add in corn, beans and cilantro until well combined; season with salt and pepper, to taste.
To serve, add in several tablespoons of the turkey mixture into the center of a lettuce leaf, taco-style, garnished with cheese and sour cream, as you desire.
Asian Sesame Fish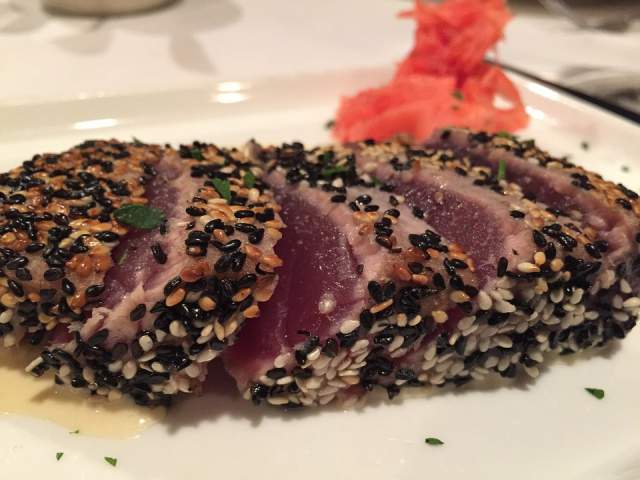 Another healthy, low-carbs dish, filled with tons of flavor and protein. Tilapia and some other fishes is one of allowed foods in all 17 Days Diet recipes. It is easy to prepare with easy-to-get ingredients within just 20 minutes in just one pot!
Instructions
4 pieces tilapia fillets (you can also pick tuna, salmon, or other fishes)
2 tbsp olive oil
2 tbsp rice vinegar
2 tbsp light soy sauce
2 tbsp chopped garlic
1 tbsp grated ginger
2 tbsp sesame seeds, lightly roasted
4 green onions, chopped
Salt and pepper
Instructions
Spray a broiler pan with veggie oil spray to prevent fish from sticking. Place tilapia. Whisk together olive oil, rice vinegar, soy sauce and garlic until well blended. Pour over fish. Sprinkle roasted sesame seeds over fish. Broil at medium heat for about 20 minutes or until fish flakes easily with a fork. Serve it.
You can explore more 17 Days Diet recipes and try watch this video.  Happy healthy cooking!