Due to increased risks to life because of obesity, more and more people are becoming conscious about their health and weight and have started to do yoga, started becoming members of the gym, etc.
Obesity brings along with it many health issues, and it just keeps multiplying, and your money will go just in paying medical bills.
There's only one solution to it, healthy diet and healthy workout!
It's from people to people on what they include in their diets, but one of the most popular ways is the calorie diet for losing weight and so here are some nutritious yet lip smacking low calorie dishes with the use of chia seeds.
1. Coconut Chia Pancakes
These pancakes are made using coconut flour and topped with a few unsweetened coconut flakes add something different regarding taste than your usual plain or blueberry pancakes.
The addition of good-quality vanilla whey protein and chia seeds boosts the satisfying protein and fiber in this breakfast, so you stayed full and focused until lunch time.
These would be an excellent way to sneak some chia seeds into your children's day as well- since what kid doesn't like pancakes?
2. Quinoa Chia Seed Bars
Most of the packaged protein bars contain a laundry list of processed ingredients that commonly cause digestive problems and more.
Make your protein bars rather, so you always have a healthy breakfast-on-the-go option or something you can keep as a filling afternoon snack in your bags.
One may replace the agave in this recipe with local raw honey, one of my favorite ingredients for decreasing inflammation, providing vitamins and minerals, and healthily appeasing a sweet tooth.
3. Orange Vanilla Chia Bean Pudding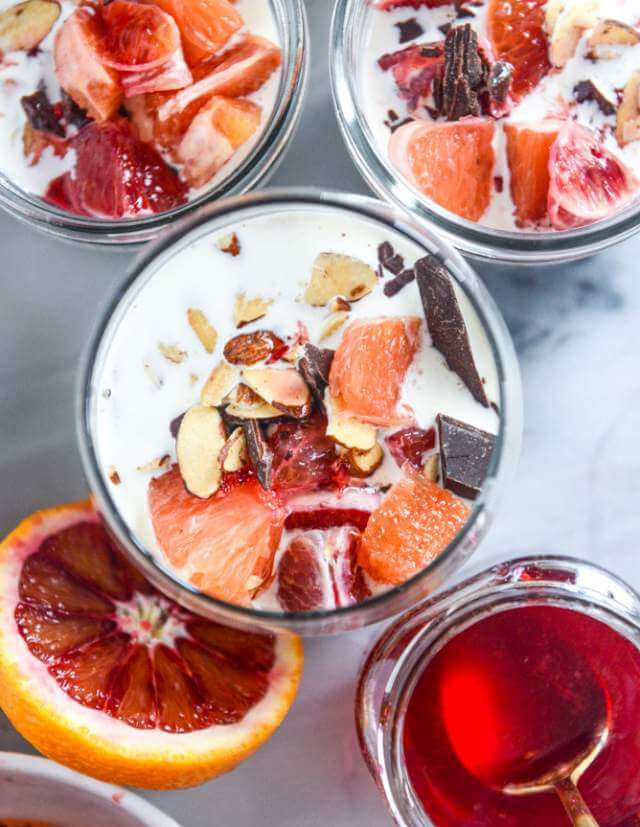 Oranges and other citrus fruits are common in every kitchen. They are one of the foods that are highest in vitamin C, which boosts immunity, helps to heal the infection, and acts as a powerful antioxidant.
Citrus fruits are even great for your skin, so this orange-infused oatmeal will help you keep your glow all through long winter, while oranges are usually at their peak of ripeness and availability.
Vanilla extract makes a great additional ingredient to any chia pudding because of its shelf-stable, low in calories, but is a bit high in flavor (a little goes a long way). Vanilla beans or pure vanilla extract are a good way of bringing our sweetness in chia seed recipes without adding extra sugar to sweeten it.
4. Lemon Muffins with Chia Seeds and Honey
If you are someone who loves lemon poppy seed muffins, then this chia seed recipe for healthy breakfast muffins is the right choice for you. Remember to use coconut palm sugar in place of regular white sugar and to replace sprouted ancient grain or your favorite or grain-free flour.
And there's no need to be timid with adding enough of fresh lemon juice and lemon zest; lemons are packed with benefits, boosting immunity, helping to lessen allergies, and more.
Lemons and good-quality raw honey are two one of my favorite detox ingredients and a good way to fight off colds.
5. Apple Mug-Muffins with Chia Seeds
It is egg-free chia seed recipe uses coconut flour over processed flours, which makes this recipe both calories free and vegetarian/vegan-friendly.
Apples are a good addition to any muffin recipe, thanks to their high level of fiber and anti-inflammatory properties.
Apples contain a particular compound called pectin, which is great for the digestive tract.
6. Mocha Chocolate Chunk Chia Brownies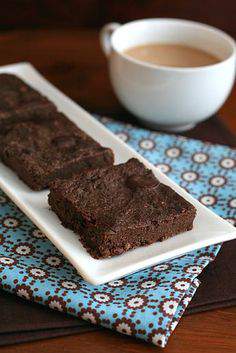 Luckily for us, right quality dark chocolate in the form of unsweetened cocoa is high in flavanols and anti-oxidants. To lower the blood pressure and improve blood flow flavanols are used to the brain and heart.
Cocoa is one of the excellent sources of magnesium, which is a mineral that many people are deficient in.
Cocoa gives you a significant energy boost without any jitters and helps with focus, attention, and athletic training, making it one of the most popular "super foods."
For this particular recipe, use coconut palm sugar as your sweetener and also replace regular butter with grass-fed butter or coconut oil, to give these brownies plenty of healthy moisture.
7. Chocolate Chia Hazelnut Shake
This creamy smoothie is naturally sweet because of dried dates and gets it flavor from hazelnuts and chia seeds after they are blended.
To give you a mind-blowing tip- soak your favorite nuts overnight in water so it will be easy to blend them, also you will get an extra smooth smoothie.
Cocoa powder, is a good variety of chocolate which is used in this particular recipe, is a fantastic super food- rich in numerous trace minerals. Use only good quality, raw and organic cocoa powder whenever possible to be benefited out of using it in desserts, smoothies, and more.
8. Toasted Oatmeal with Strawberry Chia Jam
Why buy muffins or pastries from stores, when you can make your tasty toasted oatmeal instead, which will give you the same fine texture you are looking for with a much less number of the sugar and calories.
Oats are rich in fiber, which also plays a vital role in regulating blood sugar and also it reduces cravings thanks to its ability to make you feel full and satisfied.
Fiber also plays a crucial role in digestive and cardiovascular health. Oats also provide essential minerals and complex carbohydrates, which are primarily used for athletes, making them a great pre or post workout snack.
Whipped coconut cream is a perfect silky-smooth substitution for flavored, sugar-loaded yogurts. This includes chia seeds, coconuts, oats, and berries, you've got a breakfast that is packed with antioxidants, healthy fatty acids, loads of fiber, and prevent you to munching unnecessary.
A quick Recipe For Long Term Use: Blackberry Chia Jam
Avoid the overly sugary, preservative jams that we buy in most grocery stores and make your own better version instead using plenty of actual berries and chia seeds. The chia seeds help to create a perfect jelly texture, and also importantly keep your blood sugar stable.
Blackberries and other berries like cranberries are some of the healthiest fruits one can add to any breakfast chia seed recipes, so begin by spreading this jam on sprouted grain toast, a muffin, or oatmeal.
We are thankful to their high level of antioxidants, and berries help to fight free radicals and work well for reducing symptoms associated with aging. Also, they are stuffed with antioxidants and anti-inflammatory properties.
Also, the studies state that homemade food has low calories than the same food if bought from stores so just hurry and make your way to the kitchen and satisfy your cravings with the above chia desserts!!!