One of my friends is going to publish a family recipe book and she wants me to review it by sharing some easy dessert recipes. She also does not mind for me sharing the easy dessert recipes in this article and here they are:
Banana split cake easy dessert recipes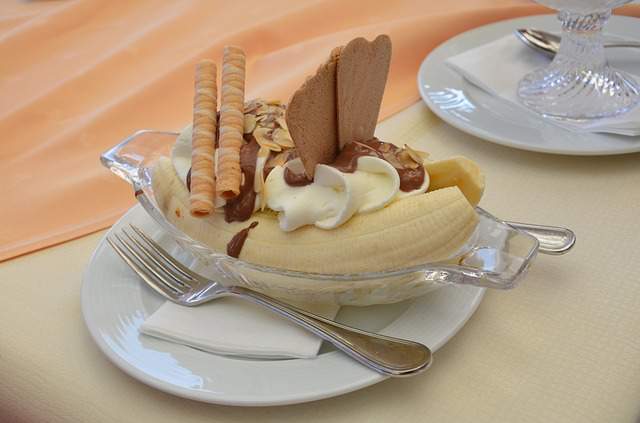 No baking required here, so it is very easy to make. Very tasty and delicious dessert filled with nutritions.
Ingredients:
5 to 7 pieces of bananas
3 sticks of butter
1 bottle of red maraschino cherries
1 large container of whipped topping
2 cups of crushed graham crackers
A half-cup of crushed pecans
2 eggs
2 cups powdered sugar
1 medium can of crushed pineapple in its own juice
Instructions:
Beat the eggs along with the 2 sticks of butter and powered sugar for 15 minutes. Set them aside.
Mix the butter and graham cracker crumbs and then pat them into pan.
Spread the first mixture over the crust and then put the sliced bananas over.
Cover the bananas with well-drained pineapple and put whipped topping on top.
Sprinkle the pecans on top. Place a cherry in each section of the serving.
Put the banana split cake into the fridge for several hours before serving.
Chocolate eclair cake easy dessert recipes
This recipe also does not require you to bake and it is even easier than the banana split cake recipe.
Ingredients:
Butter
Whole graham crackers
6-ounce of instant french vanilla pudding
3 cups of whole milk
9-ounce of whipped topping
¾ cup of sugar
¼ cup of honey
1/8 teaspoon of salt
1/3 cup of cocoa
¼ cup of milk
1 teaspoon of vanilla flavoring
Instructions:
Prepare a 13 by 9 inch pan dish and butter it. Line the whole gram crackers with it.
Mix the instant French vanilla pudding with the whole milk. Blend for around 2 minutes.
Fold in the whipped topping and pour over the crackers. Add another layer of crackers and add more pudding mixture.
Put the graham crackers as topping. Set aside.
Now we are going to creat the fudge icing and here are the instructions:
Mix the sugar with honey, salt, cocoa and milk. Cook for 1 minute until the mixture boils.
Remove the mixture from heat and add butter and the vanilla flavoring.
Cool the mixture down then beat until it smoothens and thick enough to be spread on top of the crackers.
Put the cake into the fridge for 24 hours before se  rving.
Icebox fruit cake easy dessert recipes
Another easy dessert recipe that does not require baking and is very easy to make. Very tasty and refreshing.
Ingredients:
1 stick melted butter
1 box of crushed graham crackers
1 bag of coconut
1 can of evaporated milk
1 cup of sugar
1 bag of small marshmallows
2 cans of condensed milk, sweetened
1 cup of chopped walnuts or pecans
Candied cherries (optional)
Instructions:
Melt the marshmallows and then mix it with the rest of the ingredients in a large pan.
Pour the mixture into individual containers.
Put the containers into the fridge for 24 hours before serving.
Or maybe you should try this one
These are only some of the easy dessert recipes that my friend provides in her book. Judging from these easy dessert recipes, I will definitely endorse her book once it is published for the public.