Do you have a keen interest in clean eating, structured workouts and overall fitness? If you are a self-proclaimed fitness enthusiast and health takes priority above most things in your life, we can help you make a career out of it!
Fitness isn't just intensely working out for a set of washboard abs. Rather than simply focusing on physical transformation, it's a goal-oriented comprehensive field that involves improving strength, metabolism, nutrition and overall health. It's demanding in terms of motivation, focus and consistency.
Incorporating fitness into the everyday lifestyle is more popular than it has ever been. This also means making a successful career in this industry isn't easy by any means. If fitness holds a serious appeal for you, enough to turn your passion into a career, this is an informative career guide for you.
Is it too late to switch to a fitness career?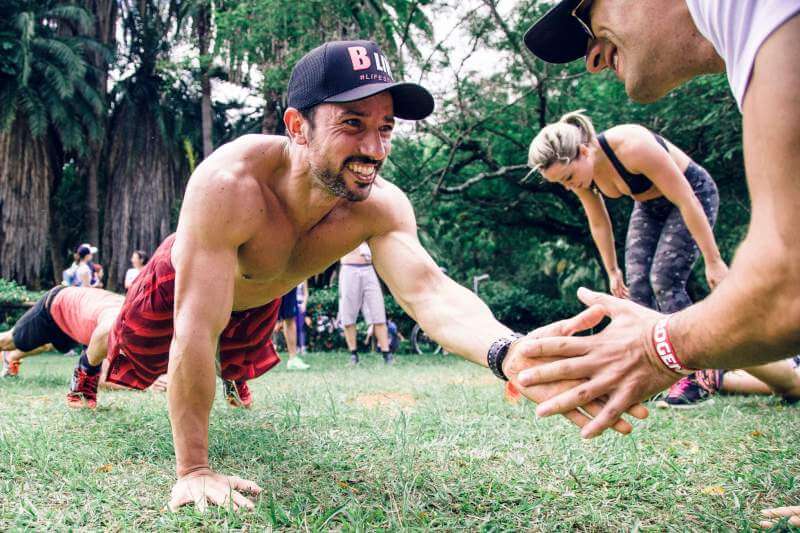 The simple answer that any career guru would give is no. It's never too late to switch to something you are deeply passionate about. But that being said, it also depends on what kind of career you're aiming for. For instance, if you are in your late 40's, it probably won't be feasible for you to go back to school to earn a degree. It's an expensive, time-consuming commitment.Thankfully, the health and fitness industry offers wide-ranging career avenues. No matter your age or educational background, it's possible to build a fitness career.
What are the best career options in the fitness industry?
When it comes to careers, the fitness industry has a broad scope. Let's take a look at some of the most popular career options in health and fitness.
Fitness Trainer
Fitness trainers work in gyms, fitness clubs and also one-on-one with clients as personal trainers. This profession involves guiding others to help them achieve their individual fitness goals.
To become a certified personal fitness trainer, you need to pass a recognised course to learn exercise science, human anatomy and nutrition. There are various levels, starting from basic diploma to intensive courses.
In addition to passing the certification exam, building a client roster is what will move your career as a fitness trainer forward. Body Aid Solutions offers a range of personal trainer courses that are recognised by the Register of Exercise Professionals.
Athletic Trainer
Athletic trainers are healthcare professionals who guide athletes and sportspersons. They work with physicians to provide preventative care, emergency services, therapeutic intervention, clinical diagnosis and rehabilitation of injuries.
If you are interested in this field, you have to earn a Bachelor's degree and a Master's degree or doctoral qualification in Athletic Training from an accredited athletic training program.
Massage Therapist
Massage therapy serves a greater role than just relaxation after a stressful week. A massage therapist alleviates tension and pain in muscles and soft tissues. In particular, sports massage therapists provide rehabilitation for sports injuries and help players get back on the field.
To become a qualified massage therapist, you have to pass a training course from a reputed institution.
Coach
If you are passionate and knowledgeable about a particular sport, you can seek a career as a sports coach.
From schools to an international sports team, everyone requires a coach. The perquisites to become a coach varies from sport to sport. In the UK, the minimum requirement is a United Kingdom Coaching Certificate (UKCC) or level 2 Sports Coaching qualification from a National Governing Body (NGB). To further your career as a coach, earning a Level 3 and a number of other sports qualifications are essential.
Nutritionist
Nutritionists are trained professionals who assess and advice on dietary intake. To become a nutritionist you need a Bachelor's degree and a Master's degree to further your career. To become a registered nutritionist, you can find a register of accredited courses on the Association for Nutrition (AfN).
Physical Therapist
A physical therapist helps ill or injured people manage their pain by improving their movements. Physical therapy involves working one-on-one with patients to explain the different exercises, preventative measures and lifestyle changes.
To become a qualified physiotherapist, you need to obtain a degree from a programme accredited by the Health and Care Professions Council (HCPC).
Occupational Therapist
Contrary to what you might've heard, an occupational therapist is different from a physiotherapist. An occupational therapist helps patients improve their ability to perform activities of daily living. They work with injured, ill or disabled patients.
If you're interested in becoming an occupational therapist, you need to complete approved degree-level training. To practise, you must register with the Health and Care Professions Council (HCPC).
Yoga Instructor
Yoga has taken the world by storm. To become a sought-after yoga instructor, comprehensive and specialised training is required. After that, you can work for a sports club or start your own studio.
Pilates Instructor
Popular among celebrities, Pilates has significantly grown as a fitness discipline. If you are looking to become a Pilates instructor, you are required to qualify a training course. There are different course levels for different specialisations.
Sports Journalist
Nothing brings people together better than sports. The widespread public interest in sports is your segue into a career.
With the growing opportunities in media, you can consider a career in sports journalism. You need to earn a sports journalism degree accredited by the National Council of Training of Journalists or the Broadcast Journalism Training Council.
However, a degree is not necessary to build a career as a sports journalist.
Is there scope to launch a fitness business?
A career in fitness as an active professional might be unattainable for some people. If that's the case for you, you will be pleased to learn that there are several business opportunities in fitness.
Start a health & fitness blog
If you don't have the time or money to commit to fitness full-time, you can start a health & fitness blog to share your passion. Requiring minimum investment, a blog is a convenient way to launch yourself into the fitness industry. If your blog gathers a decent audience, you can monetise it and make money.
Become a fitness influencer
Just like blogging, fitness influencers are gaining momentum in the industry. With an understanding of your audience and a well-curated Instagram or YouTube, you can market yourself as a fitness enthusiast.
Once you build a decent following, brands will reach out for collaborations and sponsorships. However, there are no set steps for success in the digital world. It very much involves trial and error.
Start a running club
If you don't have the time or finances for a degree, starting a running club is an excellent alternative. Once you have a decent number of members, you can consider legally incorporating it into a business.
Open a juice bar
Apart from physical activities, nutrition is an equally important part of anyone's health and fitness journey. You can channel your forte in nutrition by opening up a juice bar. After intensive training sessions, people need a clean, nutritious meal. You can invest in an already established franchise or start one from scratch.
Health subscription box
If opening up a juice bar seems like too much work, you can start a health subscription box. A lot of people fail to consume nutritious meals simply because they're difficult to find. You can curate health subscription boxes for vegans, vegetarians and other lifestyles.
Final Words:
Hopefully, this guide gives you a sense of direction to navigate through the health and fitness industry. Having a passion for what you do is the key to success. So, do your research and find a fitness specialisation you truly feel passionate about.