Blueberry Banana Muesli Loaf
This tasty and healthy blueberry muesli loaf tastes a bit like banana bread, but the adding up of blueberries and muesli make it more luscious than ever. This healthy snack recipe for kids is ideal for lunch boxes or after school snacks.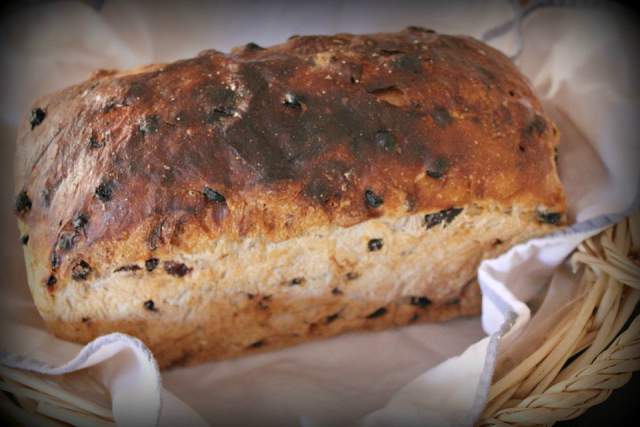 Ingredients
150gr self-raising flour
150g wholemeal self-raising flour
1 cup muesli
4 eggs
¾ cup brown sugar
¾ cup butter, melted
1 tsp baking powder
1 cup fresh or frozen blueberries
2 medium ripe bananas, mashed
125ml milk
Directions
Preheat oven to 200°C. Smear and line a loaf tin and put it aside.
Whisk butter and sugars until pale. Stir in eggs one at a time, beating well between each addition. Add mashed banana and beat well. Fold through flours and baking powder along with milk. Lastly, stir in blueberries and half the muesli, keeping the other half.
Scrape mixture into prepared tin and level down the top. Sprinkle remaining muesli evenly over the top. Bake for 45-50 mins or until cooked enough.
Serve it warm in slices or spread with butter.
Chocolate-Dipped Strawberry
These healthy snack recipes for kids are fun and tasty. They are healthy slices of tasty strawberry dipped in dark chocolate for a bite-sized treat. You can substitute strawberry with other fruits of your kids' favourites.
Ingredients
1 cup of strawerry
200g dark chocolate (white chocolate as you desired)
Pop sticks
Directions
Cover a flat tray with baking paper and put in refrigerator.
Thrust the sticks gently into each strawberry.
In a glass bowl, melt chocolate in microwave by heating up in 20-30 seconds heat, stirring well occasionally.
Dip the strawberry into chocolate. You need to be gentle with these fruits to keep them fall off the stick.
Place on cooled tray and return to fridge to set.
Fruits & Yogurt Roll-Ups
These yummy frozen fruit and yogurt rolls set up with plain flour tortillas and end up as a healthy snack recipe for kids that your kids will love. Put them into their lunch box or serve them up after school.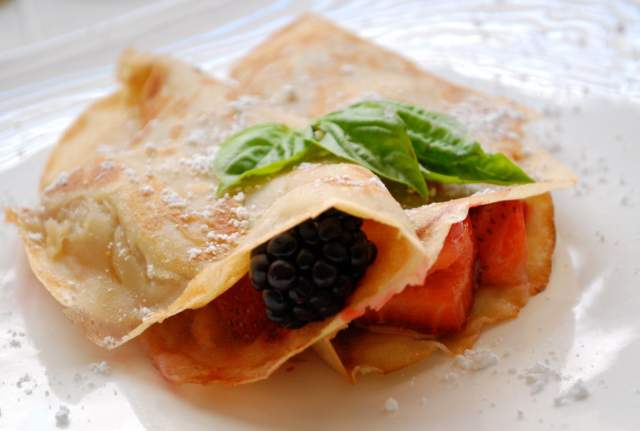 Ingredients
120gr sugar or honey
1 tbsp ground cinnamon
60g butter, melted
10 flour tortillas
500g mixed fresh or frozen berries
1 ½ cups vanilla yogurt
Directions
Combine sugar and cinnamon, and move it to a plate.
Graze tortilla with melted butter and press into cinnamon and sugar mixture.
Lay it on a plate, cinnamon side down and spread a few tbsp of yogurt on tortilla.
Put berry mixture in the center of tortilla, roll up and do it again with another tortillas. Put on a tray and freeze up.
You can make these with a few different fillings and fruits. They also taste great with custard and apple pie filling.
Apple Cinnamon Sandwiches
This makes a lusciously moist cake. It is fine on all alone without icing and ideal for afternoon tea. Apple cinnamon sandwiches are most loved snack for hungry kids. In addition to the fact that it is brimming with healthy and nutritious apples, it tastes delicious and is truly simple to make. Try this healthy snack recipe for kids to make than most.
Ingredients:
4 slices of apple or banana bread
1 tbsp butter
1 tbsp cinnamon
1 tbsp icing sugar to serve
1 apple (peeled, core removed and sliced)
Directions:
Preheat your oven temperature on the grill or broil.
Spread butter over the bread slices and put on ungreased baking sheet.
Add one or two apple slices to the buttered bread.
Shake over a touch of cinnamon over the apples.
Broil or grill for around 3 mins or until pale golden brown color
Serve it warm with a dash of icing sugar.
Blueberry Yogurt Smoothie
The secret of this smoothie is blueberry and yogurt that hiding some healthy ingredients that your kids know not about. Serve this healthy snack recipe for kids in chilled glasses and top off it with any garnish your kids love.
Ingredients
1 medium banana, cut into chunks
1 cup fresh or frozen blueberries
2 eggs
1 cup plain yogurt
125ml milk
2 tbsp honey
1 tbsp flax seed oil
Directions
Put all ingredients in a blender and blend smoothly.
Serve in glasses with ice and top off with choco chips.
Healthy Crunchy Carrot Oats Muffins
These crunchy carrot and oat muffins are one of healthy and ideal choices for your kids' lunch boxes. Use applesauce to sweeten these healthy snack recipes for kids that their tastes are terrific but skip sugar. If you like, you can make your homemade applesauce.
Ingredients
2 eggs
1 tsp bicarbonate soda
1 cup grated carrot
1 tsp baking powder
1 tsp vanilla extract
180ml non-sugar applesauce
1 cup wholemeal flour (½ cup wholemeal and ½ cup plain flour)
1 cup rolled oats
¼ tsp cinnamon
¼ tsp nutmeg
Directions
Preheat oven to 180°C. Lightly coat muffin pan with cooking spray.
In a mixing bowl, blend wet ingredients: egg, grated carrots, vanilla, and applesauce.
Mix in all dry ingredients: rolled oats, wholemeal flour, bicarbonate soda, cinnamon, baking powder, and nutmeg in another bowl.
Combine wet ingredients to dry ones. Stir lightly until mix well.
Divide batter evenly in the smeared muffin tins.
Bake for just about 25-30 mins or until lightly golden brown.
Stuffed Chicken Veggie Nuggets
As we have already known, kids are always fond of chicken nuggets. Here is how you prepare these healthy snack recipes for kids in most healthy way. They can eat them with some tasty dipping sauces of their favourites.
Ingredients
500g chicken tenderloins, minced
2 cups wholemeal flour
1 ounces chopped spinach, steamed
2 egg
½ cup low-fat milk
¾ cup fat-free cream cheese
3 cups cornflakes, crushed
1 tbsp garlic powder
Salt and pepper to taste
Directions
Preheat oven to 180°C.
Whisk in spinach and cream cheese in medium bowl. Season it with salt, pepper, and garlic powder. Set aside.
Mix chicken, flour, one egg, garlic, salt, and pepper in a bowl.
Put the filling in each chicken mixture, and fold it over. Your kids can help making their favourite fun character with this chicken mixture.
Put in order a crumbing place by sprinkling flour, salt, and pepper in first bowl, one egg beaten with milk in second bowl and crushed cornflakes in another bowl.
Turn over stuffed chicken in flour for a few pieces at a time, dip into milk and egg, and then roll in crushed cornflakes.
Arrange on baking sheet and bake until lightly golden brownabout 30 mins.
Crispy Oats Cookies
These crispy oats cookies are perfect healthy snack recipes for kids. With the secret sugary ingredients of honey and raisins, they make a great snack for afternoon time. These cookies are ideal with a cup of tea.
Ingredients
1½ cup rolled oats
½ cup wholemeal flour
100 gr butter
3 tbsp honey
1 tsp baking powder
2/3 cup milk
½ cup raisins or dried fruits
Directions
Preheat oven to 200° Cover up baking tray with baking paper and put it aside.
Whisk in flour and baking powder in a bowl, and then stir in rolled oats.
Add in butter with your fingers until the mixture resembles crumbs. Stir in honey, milk, and raisins or dried fruits until well combined and freeze up for around 2 hours.
Take it out from fridge and roll into balls, place on tray and slightly flatten with fork. Bake for around 15-20 mins.
Fried Sweet Potato Fritters
With the secret ingredient of sweet potato, mixed veggies, and shrimp, these healthy snack recipes for kids are worth to try. They are perfect for snack in the afternoon time.
Ingredients:
100g rice flour
100g wheat flour
250g sweet potatoes, cut in very thin-long strips as like matchsticks
50g shrimp (skin and head removed)
50 ml thick coconut milk
350 ml water
2 eggs
10 pcs cayenne pepper, thinly sliced (skip it if you desire)
1 stalk scallions, thinly sliced
1 big onion, chopped
2 cloves of garlic, minced
¼ tsp coriander
Veggies oil to fry
Salt and pepper to serve
Garlic powder to taste
Directions
Mix sweet potatoes strips, garlic, and onion.
Add rice flour, wheat flour, salt, eggs, milk, spices, and water, and stir well.
Heat up oil, spoon the mixture, put a shrimp in the middle.
Fry until light brown, remove from heat and serve.
Homemade Applesauce
This healthy snack recipe for kids is yummy applesauce for your whole family. You can use this applesauce as dippings or spread. Everyone will love it.
Ingredients
12 apples – peeled, cored, and chopped
1 cup brown sugar
1 cup water
1 ½ tbsp lemon juice
1 tsp ground cinnamon
Directions
Mix water, apples, brown sugar, cinnamon, and lemon juice in a blender or food processor until mix well and smooth. You can use it for dippings or basic ingredient.
If you want more info about Healthy Snack Recipes for Kids, please visit these Snacks for Kids Recipes and Super Healthy Kids Snack.
Happy healthy cooking and snacking!