Chicken mushroom baked whole-wheat samosa
Samosa is a common kind of savory, spicy pastry stuffed with curried potatoes, peas, and spices. In this heart healthy recipe, chicken, mushroom, potatoes, and peas are the secret ingredients crinkled inside these superb baked samosa. You could swap chicken for shrimp, if you like. However, anything you like as long as it is still ideal for your heart healthy diet plan.
Ingredients
Dough:
2 cups whole-wheat flour
1/8 tsp sea salt
1 cup plain, non-fat yogurt
Filling:
1 cups potatoes, small cubed
1 cup skinless chicken breast, boiled and thinly sliced
1 cup mushroom, chopped
1 cup onion, chopped
1 tbsp canola oil
1 clove of garlic, minced
1 inch of ginger root, skinned and shredded
1 tsp cumin seed
2 tsp curry powder
¼ tsp sea salt
1 cup frozen green peas
Cayenne pepper (optional)
Canola oil for brushing
Directions
Dough: Combine flour and salt in a big bowl. Stir in yogurt. Shape into a ball. Knead until smooth and add in more flour if needed. Wrap up closely. Store up in the fridge until set up.
Filling: Bring potatoes to boil for about 10–15 mins or until tender yet not squishy. Drain it. Put to one side. In a skillet, heat up oil over medium heat. Add in onion, oil, garlic, ginger, cumin, curry powder, and sea salt. Stir-fry until the onion begins softer and fragrant. Fold in peas and cook until heated. Stir in chicken, mushroom, and potatoes. Hurl to blend.
Setting up and bake: Preheat oven to 425º F (220º C). On the flat surface sprinkled with flour, shape dough resemble into a long rope. Split it evenly into several parts. Roll every part into a round one at a time. Put in more or less 2 tbsp of filling on each round and fold over. Wet inside edge with finger plunged in water and stick it up. Graze thinly with oil. Lay out samosa on grazed baking sheet and bake around 10 mins or until golden brown. Take them out from the oven. Turn down the oven temperature to 350º F (180º C). Turn samosa over and bake for an extra 10-15 mins.
Serve with chayenne pepper or any dipping sauce.
MAIN DISHES – VEGGIES
Chunky mixed green with guacamole
For the followers of heart healthy diet plan, take pleasure in this luscious mixed veggies and guacamole with handful whole grain tortillas. You can also enjoy it as a side dish to grilled fish, chicken, pork, or any other dishes. Yummy!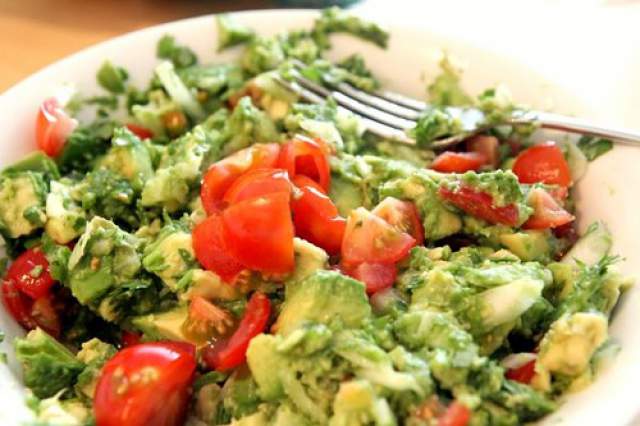 Ingredients
1 tbsp olive oil, divided
1 small zucchini, cubed
1 red bell pepper, cored, chopped
1 ripened avocado, peeled, cubed
1 medium tomato, chopped
½ medium shallot, sliced
¼ cup coriander, minced
1 tbsp fresh squeezed limejuice
1 cup ready-made guacamole
Directions
Mix well all veggies in a large bowl. Add in avocado and smash in.
Stir in olive oil, limejuice, and coriander. Serve it with ready-made guacamole.
Peas and spinach pasta
This side dish is ideal to go with chicken, beef, or other dishes for dinner. You can prepare it in one of your heart healthy diet plan.
Ingredients
450 g any whole-wheat pasta
2 tbsp all-purpose flour
2 cups Skim 1% milk
2 cups fresh spinach, chopped
1 cup peas
2 tbsp olive oil
3 cloves garlic, minced
1 onion, chopped
½ cup chopped fresh basil or parsley
1 tsp dried thyme
Salt and pepper to taste
Directions
Boil pasta according to package directions. Cook until tender, and then drain.
In a non-stick skillet, heat up olive oil over medium heat. Stir in garlic, onion, and thyme, stirring around 2 mins. Add in peas; cook, whipping often, for more or less 6 minutes or until turning brown. Sprinkle with flour; cook, whipping, for another 1 min.
Slowly pour in milk; boil and cook, whipping often, for around 2 mins or until thickened. Fold in spinach, basil, and pepper; cook just until spinach is withered. Mix with pasta.
Zucchini & Green Beans Sauté with Yellow Sauce
This simple soup-based dish is brimming with nutrients and perfect for your heart healthy diet plan. You can enjoy this dish along with grilled lean proteins for your dinner.
Ingredients
2 tbsp canola oil
1 small zucchini, halved and chopped
1 ½ cups green beans, chopped
3 large garlic cloves, minced or crushed
1 cup almonds milk
1 tbsp curry powder
1 tsp cumin powder
1 stalk coriander
Chayenne pepper (optional)
Salt and pepper to taste
Directions
Heat up a large skillet over medium-high. Add in canola oil; fold in garlic, green beans, and all ingredients. Stir well often. Then, add in zucchini. Toss well.
Pour in almond milk. Stir well, turn down heat to medium-low, and cover it up. Cook for 8 mins or until all veggies are tender, turning several times while stirring.
Add in salt and pepper to taste, stir and serve.
Mixed Veggies with Spicy Shredded Coconut (Indonesian Urap Sayur)
This is a special Indonesian side dish. Urap sayur is a serving plate of mixed greens with spicy shredded coconut dressing that typically served as side dish of traditional yellow rice, fried chicken, fried salty fish, potato fritters, stir-fried tempeh and peanut, spicy fried potatoes and beef, and other side dishes. The mixed veggies are steamed or boiled and the coconut dressing is steamed or toasted with special seasoning. Then, toss them together to serve.
Anyway, urap sayur is best for vegans and heart healthy diet plan. So, let us go to the kitchen and try this healthy recipe!
Ingredients
3 shallots
2 cloves garlic
5 red chilies
1 tsp coriander (roasted)
1½ tsp of grated kencur (Indonesian traditional herb, optional)
3 kaffir lime leaves (finely chopped)
½ tsp belacan (shrimp paste)
1 tsp salt
2 tsp palm sugar
250 g shredded coconut
½ cup carrot (peeled, cut in fingers with 3 cm lengths)
½ cup white cabbage, thinly sliced
½ cup cassava leaves
½ cup long beans (cut in 3 cm lengths)
½ cup bean sprouts
½ cup winged bean (sliced)
Directions
Mix shallot, garlic, chili, coriander, kencur, kaffir lime leaf, belacan, salt, and palm sugar and refine into paste.
Add in the paste to grated coconut, mix them well, and steam for 15 mins. Or else, you can toast it until fragrant if you would like. Take it out and let it cool.
Boil water in a pot, and simmer briefly the bean sprout around 1 minute. Drain and put it to one side. Boil the remaining veggies until tender, then drain and set them aside.
In a large bowl, mix veggies and spiced shredded coconut entirely.
Serve with yellow rice and other side dishes.
MAIN DISHES – LEAN PROTEIN
Chicken with thickened chili sauce (Ayam Rica-rica)
This chicken dish is moist and rich with best flavor. You can make it perfect luscious side dishes to grilled veggies salad for your heart healthy diet plan. You can swap chicken with duck, turkey, or any lean proteins you like.
Ingredients
2 tsp extra virgin olive or canola oil
2 stalks of leeks, chopped
1 chicken (around 1 kg), cut around 8 to 10 small pieces
2 potatoes, peeled and cut in big chunks
3 lemon grass
4 kaffir lime leaf, thinly sliced
2 kaffir lime juice
1 handful fresh basil leaves
1 cup of water
1 tsp salt
1 tsp pepper
Refine the following spice into paste
12 red chili, seeded
5 chayenne pepper, seeded (optional)
12 shallots cloves
6 garlic cloves
2 ground candlenut
1 tsp grated or minced fresh turmeric
1 tbsp grated or minced fresh ginger
Instructions
Heat up olive oil in a frying pan. Stir-fry the spice paste until fragrant, for about 4-5 minutes.
Add in lemon grass, kaffir lime leaf, kaffir limejuice, sea salt, and then cook for another 3 minutes.
Stir in chicken pieces and potatoes. Add in water and mix well. Cover up the pan with its lid and let it cook for about 25 mins on medium heat, or wait until chicken is almost tender. Add in chopped leeks, and then fully cooked. Serve with white rice and mixed serving of salad.
Simmered mixed chicken veggies dinner
This heart healthy dish is one of the quickest and least trouble-free to whip up a chicken and mixed veggies dinner—all within one pot. It is also a perfect way to acquaint your kids with new veggies. This dish has secret ingredients of green and red bell pepper, carrot, green beans, chayote, and chicken, which are not taking the most of your time to prepare. You can add in turnips or sweet potatoes rather than chayote or squash. Try this one on your heart healthy diet plan.
Ingredients
350g skinless chicken breast fillet, chopped into chunks
1 medium chayote, peeled and cut into strips with 3 cm lengths
Half-small cabbage, largely chopped
½ cup green beans, chopped into 3 cm lengths
½ cup carrot, sliced
1 cup red and green bell pepper, cubed
2 cups water
3 leeks, chopped
1 medium-size onions
3 garlic cloves, minced
3 red chili, seeded (skip if you do not like hot spicy)
2 bay leaves
¼ cup parsley, chopped
1 tsp dried thyme
½ cup candlenut milk (you can swap it with almond milk)
¼ tsp sea salt and pepper to taste
Directions
In a large pot, mix in chicken and water; bring it to boil and split off any bubbles.
Add in leeks to pot along with bay leaves, thyme, onion, garlic, red chilies, chayote, green beans, carrot, red and green bell pepper, and pour in candlenut milk; cover it up and boil for about 15 mins.
Fold in cabbage and season with salt and pepper to pot; cover it up and simmer for 5 mins or until all veggies are tender.
Spoon the soup to large soup bowls. Remove bay leaves from the broth. Sprinkle with parsley.
Halibut with vegan cilantro pesto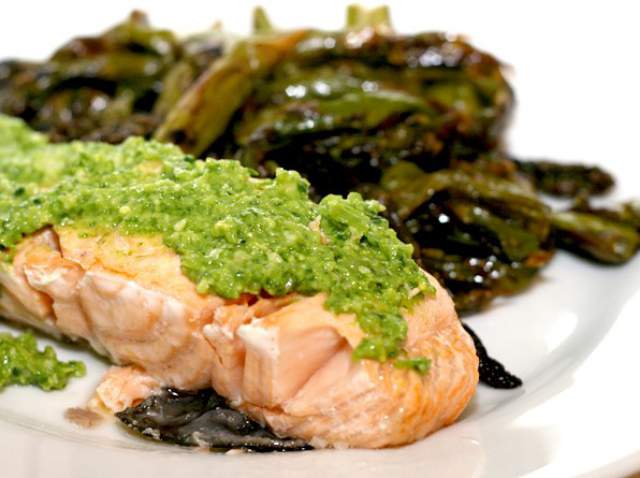 This is a superb variation on traditional basil and pine nut pesto. The secret ingredients of cilantro and lime really spice up the great flavor to the fish. You can swap halibut with other fishes. This recipe will make perfect for your heart healthy diet plan.
Ingredients
300 g halibut fillet, halved and make it 2 slices
Cilantro pesto
2 cups cilantro, hard stalks removed
½ cup non-salt, roasted almonds
1 tbsp squeezed limejuice
¼ cup shallots, thinly sliced
2 tbsp olive oil
Pinch of sea salt and pepper to taste
Directions
Making pesto: In a food processor, smash all pesto ingredients until very lightly ground, 4 to 5 mins. You can make pesto ahead of time and stock up in the fridge for a few days. 
Note: This special recipe simply needs 2 tbsp pesto. Freeze up the remaining pesto in a airtight container and store in a freeze bag for upcoming use.
Preheat oven to 400º F (200º C). Line up a baking sheet with parchment paper.
Arrange halibut fillets on baking sheet and smear 1 tbsp of pesto on each fillet. Bake for 12 mins or until halibut is cooked. Serve immediately with lots of steamed veggies and brown rice.
Spicy salmon sticks with rolled oats
Most adults and children love these spicy, crispy salmon sticks all the same. You can switch other thick fish fillets for the salmon. This is another main dish of your heart healthy diet plan.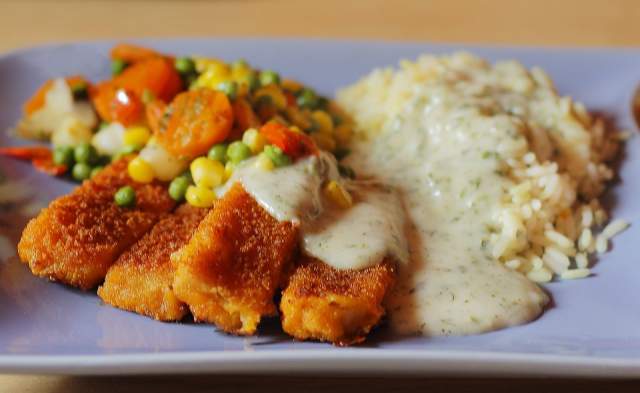 Ingredients:
500 g salmon fillet, skinned
1 egg white, lightly beaten
1 tsp Dijon mustard
1 tsp chopped fresh thyme
1 cup finely crushed rolled oats
2 tsp chili powder
1 tsp paprika powder
1/4 tsp cayenne pepper
Directions
Slice salmon into a few equal strips and put it aside.
In a dish, whip in egg white, mustard, and thyme.
In another dish, stir in crushed rolled oats, ground peanuts, chili powder, paprika powder, and cayenne pepper. Plunge salmon in egg, and just let the excess drop off. Then spread salmon in rolled oats mixture and lay them on prepared baking sheet and bake in 220°C (425°F) preheated oven for about 15 mins or until golden brown. Serve with steamed veggies and your favorite dipping sauce.
Ginger Lemon Beef and broccoli
Your family will surely love this tasty meal, because it is fast and easy to prepare and brimming with nutrients, ideal for your heart healthy diet plan. Serve it with rice or noodles to absorb its yummy sauce.
Ingredients:
1 cup Skim 1% milk
2 tbsp cornstarch
2 tsp grated lemon zest
3 tbsp reduced-salt soy sauce
1 tbsp honey
1/4 tsp hot pepper powder, or to taste
2 tsp veggie oil, divided
1 lb boneless beef, cut into chunks
1 onion, cut in half and sliced
6 cups broccoli pieces
2 tbsp grated fresh ginger root
2 tbsp lemon juice
Directions
In a bowl, pour in few drops of milk into cornstarch to make a soft paste. Stir in remaining milk, lemon zest, soy sauce, honey, hot pepper powder, and put it aside.
Heat up a large skillet over high heat. Add in half of the oil and churn to glaze. Add in beef and stir-fry for 4 mins or until brown; remove it to a bowl. Put remaining oil to skillet, and then fold in onion and sauté for 2 mins. Stir in broccoli and ginger and sauté for 4 mins or until tender. Put back beef and the mixed juices to skillet.
Whip in milk mixture and stir into skillet. Cook, stirring and scraping up brown bits, for about 3 mins or until thickened. Pour in lemon juice. Serve it with sprinkle of sesame seed.
If you want more info about heart hearty diet recipes, please visit My Recipe and Heart & Stroke Foundation website.