We are always certain that recipes for healthy smoothies are best at any time, mainly green smoothies. You can go for lunch, dinner, dessert, snack, post workout, and late night munchies among others. Our bodies are awfully craving for vitamins and minerals for the whole day. Leafy greens and fresh fruit in a blended smoothie always make for a great option.
Sipping down balanced and healthy green smoothie is cool and great, but there are some basic rules to consider before replacing full meals for green smoothies.
Keep More Greens
If you wish for healthy and balanced recipes for healthy smoothies, keep the go-greens largely (60 – 80%). The greens with neutral taste include romaine and spinach. Begin with these and you may crave for more. You can add other greens like kale, bok choy, dandelion, Swiss chard, collard greens, all kinds of lettuce, fennel, celery, cucumber, and herbs (cilantro, mint, and parsley — in lesser amount). If you cannot bear the taste of pungent or bitter greens, halve the amount and replace with romaine or spinach.
Pick Low Glycemic Fruits
In order to keep balanced blood sugar levels in your recipes for healthy smoothies, the greater part of your fruits should be low in Glycemic Index (GI), with smaller moderate amount of ripe fruit. Low GI fruits include apples, peach, pears, grapefruit, kiwi, oranges, berries, grapes, and plums, while medium GI fruits include bananas, mango, papaya, and pineapple, among others. Organic varieties are much better option if you can make it.
Add Vital Supplements
Fruits and veggies only are not enough to provide us with ample nutrition. This is how supplements come into play. Some supplements to your recipes for healthy smoothies may also advance the absorption of nutrients from your foods intake. It makes them vital to get extra nutrition out of your daily smoothie. Below are some top supplements, with some key and benefits included:
Fiber: chia seeds, flax seeds
Protein: spirulina, chlorella, nuts (almonds, walnuts, brazil nuts), seeds (sunflower, pumpkin, sesame, chia, flax, hemp)
Vitamins and minerals: maca, lucuma, ashwagandha, shatavari, cacao, carob, mesquite, matcha green tea, cinnamon, acai powder
Healthy fat: coconut (meat, oil, butter), avocado, nuts (almonds, walnuts, Brazil nuts), seeds (sunflower, pumpkin, sesame, chia, flax, hemp)
Various extra supplements: vanilla bean powder, ginger, turmeric, cayenne
Liquid base: water, coconut water, coconut milk, almond milk
Keep Swapping it up Smoothly and Precisely
This idea remains true for most things in our life. Having the same thing time after time on your recipes for healthy smoothies can get exhausting and overwhelmed. Variation likewise applies to fruits and supplements. If you have added an apple to your smoothie this week, use a plum next week. Add flax today and chia next day. Swap up your water base with coconut water or homemade nut milk.
Be smart to swap your recipes for healthy smoothies. Make your go-green smoothie prep more pleasant and you will perceive how quickly it becomes a part of your habit.
Final Tips & Ideas
If you want to get "smooth" go-green smoothie, first blend your leafy greens and liquid base, then add other ingredients, and blend again.
Do you want your go-green smoothie to be extra icy? Freeze your favorite fruits like ripe bananas (peeled), grapes, pineapple, or berries. This is also a great way not to waste ripe fruits. Other way, you can also freeze your leafy greens in a freezer-safe bag, but ensure to add your frozen greens straight to the blender.
If you like a bit of creamy smoothies, add a small amount of whole-food healthy fats, like avocado, coconut meat or a handful of nuts or seeds (nut butters, seed butters and milk included).
Put in naturally sweet raw fruits to any smoothies that tastes pungent, bitter, or a bit too "green." By sticking with these kinds of fruits like bananas, mango, apples, pears, or pitted dates, we avoid artificial sugars and the processed ones.
Keep in mind that digestion begins in your mouth! Activate those salivary enzymes by "chewing" your smoothie. Just think of it as facial exercise.
Once you follow these green smoothie tips, we ensure you get your go-green smoothies will be superb at first sip! Okay then, below are some favorite recipes for healthy smoothies that you should try your own.
Basic Green Smoothie

This tropical treat has a perfect fruit-to-veggie ratio, which makes it even a great starter green smoothie. As basic green smoothie, you could modify by swapping up spinach with any other varieties, but remember to keep the ratio. It is cool stuff!
Ingredients
2 cups fresh spinach
2 cups water
1 cup mango
1 cup pineapple
2 bananas
Use no less than one frozen fruit to chill your smoothie. I often use frozen mangoes or bananas in my go-green smoothies.
Instructions
Add 2 cups of leafy greens into blender. Pour the water and blend until all leafy chunks are smooth. Put in mango, pineapple, and bananas and blend again until smooth.
Notes
In case you have an allergy to mango or pineapple, nor a banana lover, you can replace it with another fruit with one-to-one ratio.
Vanilla Lime Green Smoothie ( my favorite recipes for healthy smoothies)
This nutrient-packed green smoothie is bursting with its juicy citrus flavor and sweet vanilla.
Ingredients:
1/2 cup vanilla yogurt
1 cup spinach leaves, packed
2 tsp honey
1/2 banana, best frozen
2 tsp fresh limejuice (as desired)
1/2 tsp vanilla extract
1/2 cup milk
1/2 – 1-cup ice (optional)
Directions:
Place all leafy greens except the ice in a blender and puree until blended. Add ice, other ingredients, and puree until smooth. Pour into a glass and serve it chilly.
Almond Kale Smoothie
Healthy fats and proteins are the way to go if you want to stay even with this green smoothie. A mixture of almond butter and rolled oats will keep you stuffed and energized until the next meal.
Ingredients:
2 cups fresh kale
2 cups non-sugar almond milk
2 cups berries
1 banana
2 tsp almond butter + ¼ cup rolled oats
Directions:
Blend kale and almond milk until smooth.
Add remaining ingredients, and blend until smooth. Enjoy!
*Use a frozen fruit to make icy smoothie.
Creamy Avocado and Kale Greek Smoothie
You may ever have felt while you eat completely unhealthy and feel like you body is craving for more required nutrients. Well then, a glass of this healthy go-green smoothie tends to be the best way to kick start healthier way of life. This treat is super quick and easy healthy meal on the go to prepare. I love the creamy avocados contribute to this smoothie and they match up very well with the flavor of kale, mango, cacao, and honey. If you are feeling a bit lethargic, you should try this vitamin-rich go-green smoothie!
Ingredients
½ an avocado
½ cup kale
1 tbsp cacao nibs
½ cup Greek yogurt
½ cup vanilla almond milk
½ cup frozen mango
2 tsp honey
Instructions
Put in kale, Greek yogurt, almond milk and blend them until smooth.
Combine avocado, cacao nibs, mango, and honey and blend on high until all ingredients mixed very well. Top with a tiny sprinkle of more cacao nibs to finish and enjoy!
Superb Green Smoothie
This treat is a high-energy green smoothie that will energize your body for intense activity. Bursting with nutrition, it has enough calories to keep you going between meals, especially if you have to go several hours in between meals. You can use either nutrients-packed romaine lettuce or even fresh baby spinach instead of green leaf lettuce to keep you stuffed. You can also prepare this smoothie by putting in one cup of fresh or frozen blueberries or strawberries instead of cranberries.
Ingredients
3 bananas, peeled
1 large mango, peeled and pitted
8 large cranberries
3 cups of chopped dandelion greens
1 head of green leaf lettuce
1 tablespoon ground flax seeds
1 scoop of protein powder
8 of ounces filtered water
Directions:
Start by adding the liquid to your blender, then the soft fruit. At last, add the greens to your blender. Blend on high until the smoothie is creamy.
Dynamic Hemp Dandelion Smoothie
Packed with required nutrients and antioxidants plus protein and healthy fats, this go-green smoothie will keep you active during the day. In case you are not familiar with hemp seeds, you can see the picture above.
Ingredients
¾ cup coconut water
¼ avocado
½ cup dandelion greens
⅓ cup frozen blueberries
1 Tbsp raw cacao powder
1 Tbsp hemp powder or seeds
Directions:
Blend the leafy greens and coconut water in a blender. Put in all ingredients and puree until smooth.
Note: You can find dandelion greens in health food stores or grocery stores. Otherwise, replace it with kale or spinach.
Chocolate Almond Go-Green Smoothie
A mixture of almond, banana, kale or spinach, and chia seed, makes this lively smoothie is filling and gets you hooked. You should try this!
Ingredients
1-cup sugar-free vanilla almond milk
1 tbsp almond butter
1 banana
1 tbsp non-sugar cocoa powder
1-cup kale or spinach leaves
1 tbsp chia seed
Ice (to taste; about 1/2 cup)
Directions:
Blend the leafy greens and coconut water in a blender. Put in all ingredients and puree until smooth.
Kiwi & Spinach Healthy Smoothie
A healthy green smoothie you will crave for more.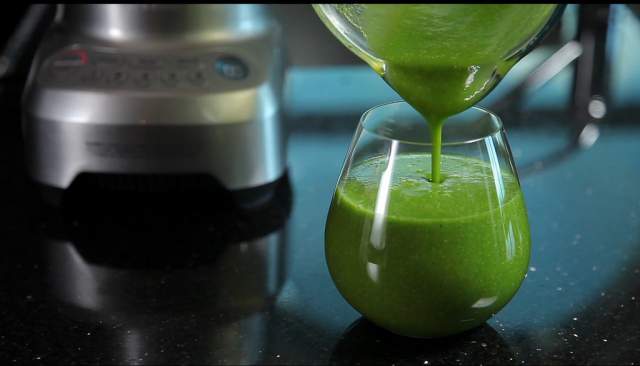 Ingredients
2 kiwi, peeled and halved
½ banana, peeled
1 cup baby spinach
½ cup vanilla yogurt (any kind is fine)
2 Tbls ground flax seed (optional)
½ cup apple juice
10-12 ice cubes
Instructions
Blend the leafy greens and coconut water in a blender. Put in all ingredients and puree until smooth.
Notes
Greek Yogurt will give you more protein than regular yogurt
Do you want more info? You could explore more recipes for healthy smoothies.
Happy healthy go-green smoothie blending, sipping, and chewing!