For someone who has been working in the interior designing industry for a long time, keeping a client's needs as your priority is the most important aspect of a profession. Every day, clients come to me with different needs regarding a workplace's design. Some lay stress on the affordability of the whole renovation process, some insist that their workplace ought to look as modern as possible. While some suggest that the design must be highly ergonomic.
Due to these varying demands, I learned to figure a few ways in which I can design a workspace for people that satisfies their needs and yet it is a healthy workspace to work at. I have learned that clients are often going to have demands and priorities when it comes to designing their workspace but rarely do they keep the element of a healthy workplace in their mind as one of the requirements. Also, I have found that the staff and people who inhabit an office play a great role in determining whether the workplace environment will be healthy or not. However, I have a few suggestions for you to carry out if you want to build a workspace that is healthy.
Be Picky With The Furniture
I can't lay enough stress on the fact that you must choose the right furniture for your workplace. These days, markets have plenty of ergonomically designed furniture by various brands, so you have got a lot of options to pick from. Invest in some comfortable sofas that your employees can rest on between work sessions or when they take a break.
You can add a standing desk for your employees if they want to work while standing, there is an increasing trend of working in this manner these days and it proves to be extremely beneficial for your posture and your overall health. You should also keep a sit-stand desk from Singapore for your employees at their individual stations; they are really functional and would help them perform better in the long run.
Allow Creativity
You also need to let creativity flourish through the workspace. Most of the jobs allow for employees to give in their creative input and you never know what talent you could be hiding in there so let it flourish. Encourage your employees to share their ideas with you and also encourage them to write down. Provide with necessary equipment so that they can brainstorm. For starters, a whiteboard would be a great idea.
Writing your ideas down on a whiteboard helps organize all the information and helps you draw a clearer picture.
Split Sections
Another important thing to do is have secluded portions in your workspace. For example, I would encourage you to put a bean bag chair in every employee's room. Instead, just use dividers and separate portions. There should be a work area with all the desks, a small dining portion for the meals and a small rest area in the corner with comfortable loungers to rest for a while.
You should prefer having a small garden if your office is situated on the ground floor that will help you a great deal. Also, keep a meeting room separate as well.
Manage The Kitchen Well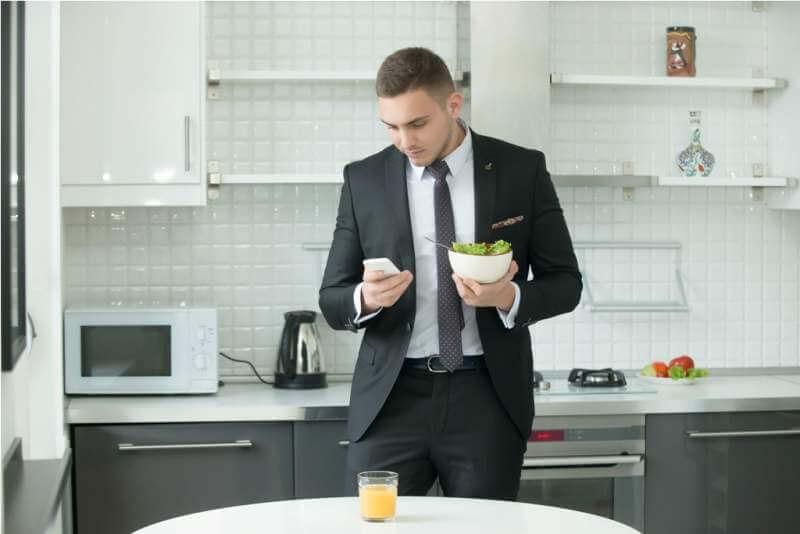 You need to keep the kitchen area neat and clean all the time. Make sure that your employees are being served a quality meal if you offer them subsidized meals. Also, make sure that all the crockery, utensils and appliances are clean and running in a perfect condition. Encourage your employees to keep the kitchen and dining area clean and make sure all the used dishes are washed promptly.
You have to ensure that the fridge is clean and doesn't have any old takeout food; freezer burn is the worst thing that you might need to handle. Also, make sure that all the munchies that you provide them are healthy.
Help Them Focus
This one point is going to encompass a lot of areas that you might need to work on. For example, you need to design the space in a way that is least distracting. If some of your employees prefer working in a team, allow them to use a team room. If others need solitude, arrange a cubicle or at least give them a space separated by dividers. Ambiance counts, therefore; keep the noise preferences in your mind. If your employees enjoy music, then let them call shots. For those who are hypersensitive with responding to external stimulus, I would recommend using pink noise.
Bring In Plants
Now, I already did mention that you should have a mini garden at least, but let's say you cannot manage it. Why don't you go ahead and bring in some planters instead? Take a step further and ask your employees to choose their favorite plants and planters that would belong to them. That way, no one person would need to deal with having to take care of all the plants. No space for the planters? You can try hanging planters instead. They come with beautiful macramé hangers in which you put the pots and hang from the ceiling. The least they will do for you are making more oxygen!
Try To Get To Know Them
Now this one's a sappy technique, but hey! It's good to get to know the folks who have been working tirelessly in your company because they have a part to play in your success. Your employees are much like your family, so learn to take care of them, and you would realize that you probably have made new friends. Getting to know your employees on a deeper level is prone to affect your work in a better way, and apart from that, it is your social responsibility to get to know your employees better. Try to make a bond with them because it will only help increase the productivity of your employees.
So these are just a few ways in which your workplace environment can be made better. I'm sure you will come up with some ideas of your own as well, and eventually you will realize that cultivating a great workspace atmosphere is crucial to your business. I wish you good luck with it.
Author Bio:
Hannah is an interior designer by profession, and she knows all the ins and outs of using the right quality of the furniture and accessories for home decor and workplace. She is also a blogger who loves to write about the home and office maintenance tips and tricks.