The 17 days diet recipes Cycle 3 should concentrate more on cutting excessive and needless fat from the body. Next step is to get your body in shape and stay healthy. By living healthy, it will boost up proper eating habits in this cycle.
Focus on Achieve Cycle of 17 Day Diet is developing good eating habits and learn how to keep eating carbs in control. After great efforts in the first 2 cycles, this cycle 3 will be deriving healthy eating habits. Eat healthy to stay fit is the motto here.
Sample Menu of 17 days diet – Cycle 3
The meal plan is very similar as Cycle 2, except for protein served to limited portions and an added option for one serving of alcohol and 100-calorie snacks. Here is one sample menu of 17 Days Diet Cycle 3 for one day. Take into account to eat your natural starches and fruit before 2 PM.
Early Morning:
Hot lemon water
Breakfast:
Whole-wheat toast
Egg white scrambles with steamed spinach and sun-dried tomatoes
One medium grapefruit
1 cup of skim milk
Hot green tea
Lunch:
Beef stir-fried
Steamed broccoli, carrots, pea pods and any allowed veggies you enjoy
Low-sodium soy sauce and other seasonings
Served over brown rice
Hot green tea
Mid-day snacks:
1-cup pineapple chunks with 1/2 cup cottage cheese
1/2 cup of fruit flavored, low-sugar yogurt
Dinner:
Grilled tuna fillet
Grilled asparagus (slight drizzle of olive oil)
Light garden salad with your favorite greens and veggies
Light olive oil and balsamic vinaigrette (any other dressing you like)
Hot green tea
Water consumption: eight glasses of plain water or purified water
Breakfast Variants for 17 days diet recipes – Cycle 3
Veggie Breakfast Bake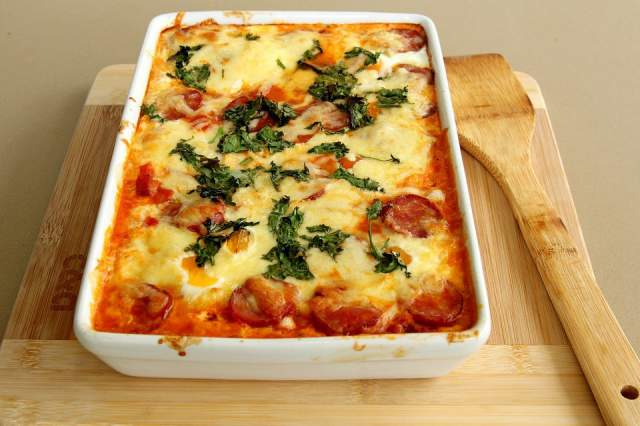 You can try one of best and simple 17 days diet recipes into much larger dishes by doubling the ingredients. You can keep it in refrigerator overnight and warm it up in your microwave for breakfast.
Ingredients
1-cup cut mini peppers (chop the end off, slice it lengthways, and cut diagonally)
1 chicken sausage, sliced (you can use pork, chicken, and any other allowed lean meats)
3/4 cup olives, cut in half crosswise (you can use green or black olives or whatever kind you want)
1/2 large zucchini, chopped
Other veggies of your choice
Six eggs white
Seasoning
Instructions
Combine mini peppers, olives, zucchini, and other veggies in a large mixing bowl and mix well. Put it in an oiled baking dish.
In the mixing bowl you just emptied, add in eggs and seasoning. Whisk well, then pour the mixture over veggie mixture, ensure all veggies covered by the eggs.
Add sliced chicken sausage to the top, scattered, and then push them down to cover them by the egg mixture.
Bake in preheated oven for 30­-40 minutes. Fork test at the end to ensure it cooked through enough, and then place on a cookie cooling rack to cool for about 15 minutes before cutting and eating.
Put some salsa on top and it will be good to serve.
Non-Dairy Whole Wheat Pancakes
Made with soymilk and vegan "butter," this dish is very easy, healthy and tasty based on 17 days diet recipes.
Ingredients
1-cup white flour
1-cup whole-wheat flour
1 tsp baking powder
0.5 tsp baking soda
0.5 tsp salt
1 large egg
3 tbs butter
2 cups soymilk or other milk as you like
2 tsp olive oil
Directions
Melt the butter. In a large bowl mix white flour, wheat flour baking powder, baking soda, and salt. In a seperate bowl mix melted butter, egg and milk.
Add wet ingredients to dry ingredients.
Heat up oil in non-stick skillet until shimmering over medium low heat.
Measure batter with a small ice cream scoop or 1.5tbs measuring spoon and add to hot skillet. When batter begins to form bubbles for about 3-5 minutes, flip and continue to cook for 1-2 more minutes.
Remove it to plate; keep it warm. Repeat with remaining batter; coat with cooking spray when needed.
Spread each pancake with about 2 tsp strawberry flavor yogurt or honey (anything you like). Top with about 3 tbsp chopped strawberries or other fruits. Serve it.
Healthy Breakfast Cookie
Never run out your entryway without breakfast! Simply get one handy, yummy, and nutritious breakfast treat. Here is one of 17 days diet recipes to start your day.
Ingredients
2 large eggs, beaten
1/2 cup of honey
1/4 cup of butter
1-cup grated carrots
1/2 cup raisins
1 cup walnuts, chopped
1/2 cup dried apricots, chopped
1-cup all-purpose flour
1-cup rolled oats
1 tsp nutmeg
1 tsp cinnamon
1 and 1/2 cups cheerios
Directions
Combine egg, honey, and butter.
Add raisins, walnuts, and apricots.
Stir to combine.
In a separate bowl, combine flour, oats, nutmeg, and cinnamon.
Add this to wet mixture and stir until everything is wet. Fold in cheerios.
Drop mixture onto cookie sheets about 2.5 cm apart and bake at 350 for 15 minuts or until cookie is firm. Serve it.
Smoothie for the 17 Day Diet Recipes
Breakfast: Sunshine Smoothie
Ingredients
1 cup unsweetened almond milk
1/2 cup plain low-fat yogurt
1 scoop vanilla whey protein powder
1/2 cup crush pineapple, canned in its own juice, drained
1/2 frozen banana
Truvia or honey, to taste
Instruction
Place the ingredients in a blender, and blend until smooth.
Lunch: Berry Almond Smoothie
Ingredients
1-cup plain low-fat yogurt
1/3 cup unsweetened almond milk
1 cup frozen mixed berries
1 serving vanilla whey protein powder
Truvia or honey, to taste
Instruction
Place the ingredients in a blender, and blend until smooth. Freeze. Makes 1 serving.
Dinner: Green Banana Smoothie
Ingredients
1-cup plain or unsweetened vanilla almond milk
1 serving vanilla whey protein powder
1-2 handfuls fresh spinach leaves
1/2 ripe frozen banana
1-2 tbsp ground flaxmeal
Truvia or honey, to taste
Instruction
Place the ingredients in a blender, and blend until smooth. Makes 1 serving.
Main Dishes Variants for 17 days diet recipes – Cycle 3
Spicy & Moist Curry Chicken
Just because you are on a diet does not mean you have to restrain from good savor! For those on Cycle 2 or 3 of the 17 Day Diet, today I have a superb Spicy & Moist Curry Chicken out of 7 days diet recipes. Enjoy it!
Ingredients
3 lbs of chicken breasts or tenderloins (you can use turkey, pork, or beef)
½-cup olive oil
2 tbsp mustard
2 tsp salt
3 Tbsp curry powder
1 tbsp chili powder
2 cup plain or unsweetened vanilla almond milk
Instruction
Preheat oven to 375 degrees.
Lay chicken in casserole dish.
In a bowl, combine olive oil and the rest of ingredients.
Pour over chicken to coat and bake for 1 hour.
Italian Herb Grilled Turkey
This 17 Days Diet recipe is perfect for a quick meal. Prepared on the grill and served with pasta and sun dried tomatoes, you do not have to waste a lot of time in the kitchen. Add this grilled turkey in various meals like pasta, salads, sandwiches, and so on. You cannot go wrong with it. Enjoy it!
Ingredients
1.5 lb turkey breast or tenderloin
2 tbsp dried oregano
2 tbsp dried thyme
2 tbsp dried basil
2 tbsp garlic powder
Salt and fresh ground pepper to taste
Olive oil (enough to drizzle over both sides of turkey)
Directions
In a small bowl, combine oregano, thyme, basil, garlic, salt, and pepper. Set aside how much you will use for turkey, save the rest in airtight container for future use.
Lay turkey breasts on baking sheet or plate. Sprinkle both sides of turkey with seasoning and rub all over. Sprinkle olive oil on both sides of turkey. Place on hot grill, over medium heat. Grill for about 5-7 minutes on each side or until done, when juices run clear.
Let turkey rest for 5 minutes before cutting.
Spicy Shrimp and Veggies Stir Fry
Stir-fry is certainly the best way if you prefer fresh, fast, and good meal. First, you must ensure to have all of your ingredients prepared ahead of time. Cut and rinse your shrimp and veggies beforehand and drain them up. Grab your seasonings (garlic, ginger, spices) ready because those are big part of the cooking process. Stir-fry is quite quick and beyond satisfying if you just do it right. Here it is one of my favorite 17 Days Diet recipes.
Ingredients:
1 lb shrimp, peeled and deveined
1 lb fresh asparagus
1 red or yellow bell pepper, cut into strips
2 tsp veggie or canola oil, divided
1/2 tsp red pepper flakes
3 cloves garlic, minced
1 inch ginger, peeled and minced
3 tbsp soy sauce
Salt and pepper, to taste
Directions:
Heat up canola oil in wok over medium high heat. Add shrimp, season with salt, pepper, and stir-fry for 3-4 minutes until shrimp browned. Take shrimp out of wok and set aside in a dish.
Pour canola oil into wok and add red pepper flakes, stir for 10 seconds. Put in minced garlic and ginger to pan and stir for about 10–20 more seconds, until fragrant. At this time, add asparagus to wok and stir fry for up to 2 minutes. Add pepper strips to green beans and stir-fry for another 1-2 minutes. Put shrimp back into pan and pour soy sauce over shrimp and veggies mixture. Gently toss for another minute, then serve hot over prepared brown rice.
Happy healthy cooking!