People have been using herbal remedies for centuries to cure their ailments. It's only in our modern age of pharmaceuticals that clever marketing campaigns have been steering us to buy costly prescriptions for even the smallest conditions.
If you are looking for a healthy and money-saving change why not get back to the basics of mother nature and start using natural herbs to prevent and treat some of your aches and pains. We outline 6 types of healthy, herbal teas that can help relieve some common ailments from a cold to a sore tummy.
1. Common Sage
Sage is known for treating muscle pain. It is an antispasmodic, which means that it can help to relax muscle fibres. If you're very active and constantly deal with muscle soreness and pain, this might be perfect for you.
It's also often used as a natural cough medicine, as its relaxing properties work well on the lungs and throat. If you're a smoker, or once was, then you might be dealing with annoying throat irritations every now and then. Drink up and take in some fresh air.
How to consume?
Add 1 tbsp fresh sage leaves, or 1 tsp dried leaves, to hot water. Steep for 5 minutes.
You can also apply this steeped water to any aches on the body by steeping sage leaves in water for 10-15 minutes. Apply to a towel and compress on the areas experiencing soreness.
2. Matcha Green Tea
Green tea is often used to help alleviate inflammation and arthritis pain. This is because it contains the powerful active ingredient, EGCg, that fights inflammatory chemicals inside the body.
Matcha is the type of green tea that contains the most antioxidants – not to mention, the highest level of EGCg.
Unlike standard green tea, matcha green tea contains the whole tea leaf which has been stone ground into a fine powder. This powder is dissolved in hot water, so when you drink matcha, you ingest the whole leaf – not just the brewed water.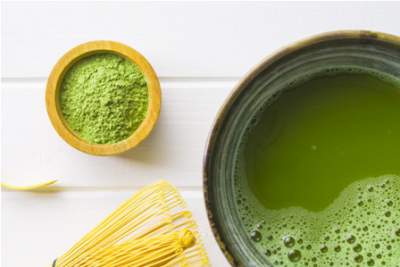 This means that half a teaspoon of matcha is the equivalent of 10 standard cups of green tea bags in terms of antioxidants, vitamins, and minerals.
In addition, matcha green tea packs a modest amount of caffeine, making it a healthier coffee substitute.
How to consume?
Simply mix half a teaspoon of matcha green tea powder into a cup of hot water, stir well, and enjoy. We recommend Evergreen Matcha, a premium brand with a non-bitter natural flavor. Their tea is handpicked directly from sustainable farms in Japan, so you're guaranteed only the best quality with all the health benefits.
3. Lavender Tea
Lavender is known for its calming, sleep-inducing properties. When steeped in hot water, lavender tea is often used to help fight flatulence, colic, or an upset stomach.
It can be also applied as a wash to the chest to reduce any respiratory conditions like cough or colds.
Of course, it also relieves muscle spasms. For the best results, try drinking a cup of lavender tea, while soaked in a bath with lavender oil. Sounds like a proper pampering, doesn't it?
How to consume?
Steep some lavender flowers (which you can buy in florists), or dried flowers in a mug of warm water.
4. Turmeric Tea
Turmeric tea contains the active ingredient curcumin, which has strong anti-inflammatory effects on the body.
Inflammation is considered as one of the key factors in arthritis, so one cup of turmeric tea a day could work wonders for you.
How to consume?
Dissolve half a teaspoon of turmeric powder into a hot (not boiling) mug of water. You can add a little honey if you want to sweeten.
5. Cardamom Tea
Cardamom tea, like lavender tea, is often used to treat stomach conditions – like indigestion and nausea.
Cardamom also works as a caffeine detoxifier. If you're feeling the jittery effects from too much coffee, cardamom helps to remove the caffeine from your body.
Toxin irritation is directly linked to muscle tightness, so it's a good idea to cleanse every now and then.
How to consume?
You can steep cardamom leaves in hot water. Some like to put milk in there, too. It's also one of the main spices in many chai tea mixes – but make sure you buy chai leaves, instead of chai powder – as the latter can often be laden with sugar.
6. Peppermint Tea
Peppermint tea contains menthol and camphor – two substances which help relieve muscle tension.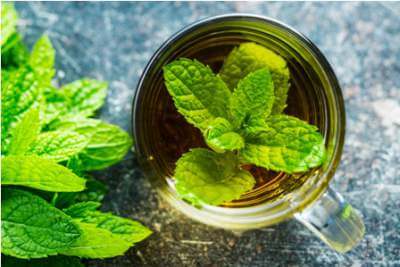 It is also often used to help with indigestion, as well as relieving headaches and anxiety, which can cause stress-related muscle spasms.
How to consume?
You can purchase peppermint tea bags from supermarkets. If you opt to use fresh peppermint leaves, steep them in hot water, and add a little honey if you want to sweeten.
In Summary,
So the next time you feel aches or pains in your body, try putting those over-the-counter medicines away for a change. Your kidneys will thank you for it. Let's try something that nature made, and can be found all around us.
Just boil some water, bring out your finest china, and have one of the herbal teas we've listed above. Not only will these healthy teas help ease your pain, but they'll also help you relax and get back to nature.
Author Bio
Erin Young is a health writer and a tea expert. She owns two tea brands; Evergreen Matcha in the USA and Zen Green Tea Matcha in Australia. She partners with sustainable tea farms in Kyoto, Japan to source her premium matcha green tea powder. Want a free Matcha Recipe book with over 30 healthy recipes delivered to your inbox? Click here.